To compete on the LPGA Tour has been a lifelong dream. This is no exaggeration. If you've seen footage from the Carolina Classic in October where I won my first Epson Tour event and earned my LPGA Tour card, you know how much this means to me.
Everything leading up to that moment — when I made eagle on the third hole of a sudden-death playoff to secure the win — was one big rollercoaster ride.
It felt like it all came together in that last shot.
No doubt, it was one of my most emotional and defining experiences.
The early days
I'm told my golf journey started a month before I turned four. My mom wanted something that my older sister and I could do with our dad. He played golf with his buddies, so my mom signed us up for 30-minute golf lessons at a local club in Knoxville, Tennessee.
Two short years later, I was a member of LPGA*USGA Girls Golf and was playing at the US Kids World Championship in Williamsburg, Virginia.
I started getting the competitive bug pretty early, I know, but once I did, there was no turning back. And as soon as I started playing in AJGA events at age 12, my mind was made up: I wanted to be a professional golfer.
I knew that in order to accomplish that, my next step had to be college golf.
My parents always made sure I knew what making it to this level would entail, the sacrifices I'd have to be willing to make both big and small. But truthfully, I was okay with spending summers on the course while my friends spent them at the pool. I knew that accomplishing the goals that I had set for myself would be worth it.
After I spent my freshman season with Auburn, I felt like I needed a switch. So, I signed with the University of Texas.
The transfer process is never an easy one. You have to get used to a brand-new environment with new players and coaches. But I believe God put me where I was supposed to be. Faith is very important in my life and I always trust in God's plan. And that plan was Texas.
My big win
Looking back now, I know it was one of the best decisions I've ever made. Doubtlessly the most pivotal moment of my college career was in my junior year in 2017 at the U.S. Women's Amateur Championship in San Diego. I'd had wrist issues for a good portion of that season and took two weeks off to rest leading up to the Championship. So, to be frank, I didn't have any expectations.
Ryan Murphy, my coach at Texas, was on the bag, and he just kept telling me, "Don't play too high. Don't play too low. Day by day."
Winning that event, defeating the third-ranked amateur in the world and former Olympian, Albane Valenzuela, in the final was more than special. I proved something to myself. I now knew I could compete at the highest level.
My confidence was soaring.
The next level
After graduating, it's back to square one. There is no draft in golf. You just start over, trying to prove yourself once again. And it can get frustrating. The first two years as a pro were tough for me. Between a worldwide pandemic and sporadic confidence highs and lows, it was hard to find my groove.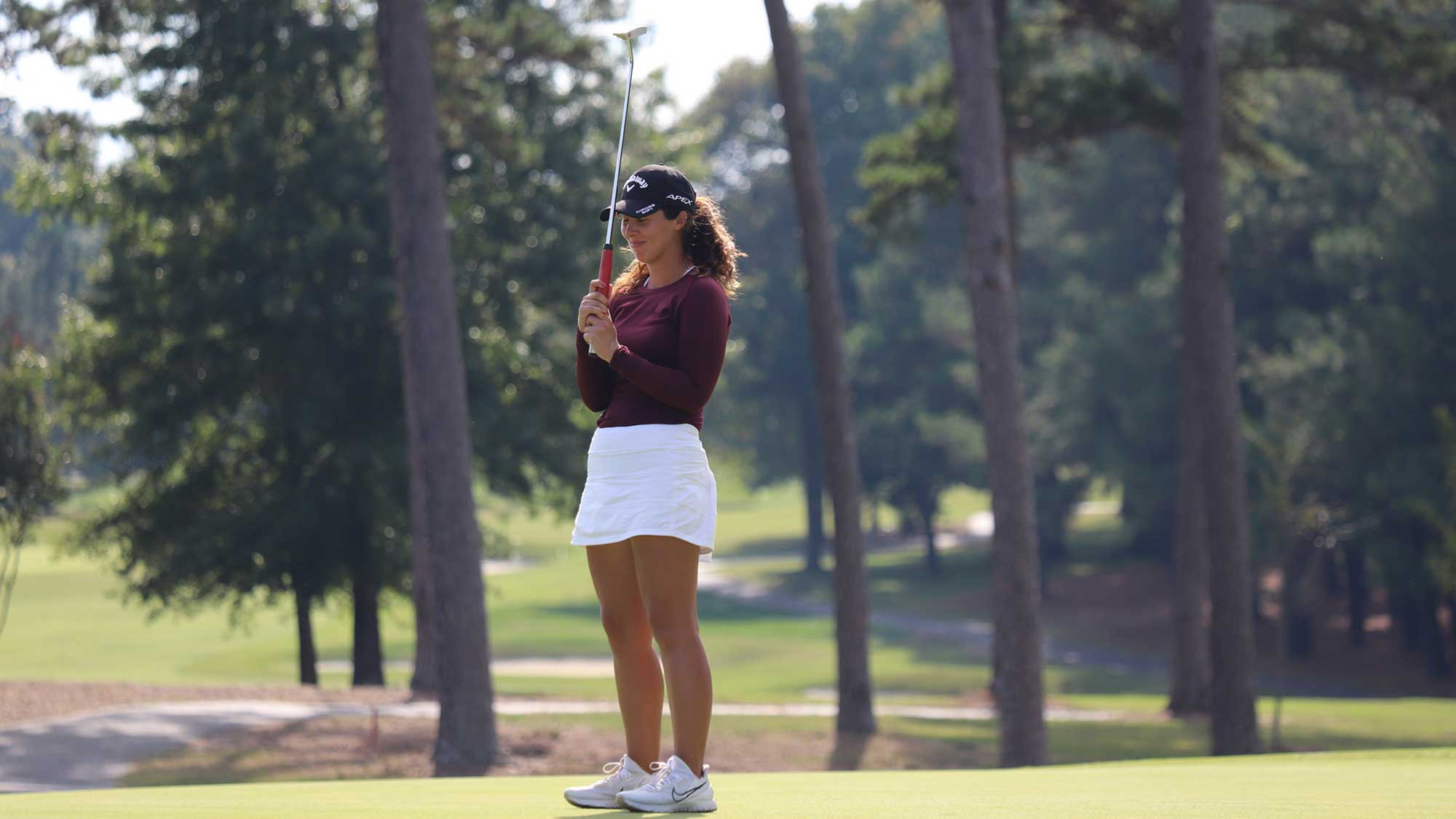 During the COVID-19 season, I was offered a broadcasting opportunity with Golf Channel alongside experts like Karen Stupples. Despite being thrown into the fire with no prior experience, I had a lot of fun and took a lot away from it. Karen reminded me that it's 'just golf,' the same golf I've been playing my whole life. It was important for me to hear that.
Observing and commentating on the game was different. It made me become much more specific with my own thought processes and shot choices. Never would I have guessed that this opportunity would propel my own game. But it did.
Taking what I've learned from this experience, as well as my previous years on the tour, I started 2021 quite well. The season had all sorts of highs and lows. Finally, everything came down to the Carolina Classic in October.
When I finally earned my LPGA Tour status for 2022, I was relieved. It's been such a grind for so many years. Finally achieving this lifelong goal took a huge chunk of pressure off my shoulders.
But that doesn't mean I'm done. Quite the opposite, actually. I'm so eager to experience this next level, it's hard to put into words.
Before starting this new chapter, I need to say a big 'thank you' to my support system. I might be setting the goals and hitting the shots, but I would be nowhere near where I am today if it wasn't for the help and support of my parents, my boyfriend, my coaches at Texas, my trainer, Adam Levko, Brad Rose and Randy Wylie, and my agent, Charlie Danielson. They've all prepared me to play at the highest level. And for them, I am so grateful.
Now, let's do this.