I know most pro athletes are grateful for the sacrifices made by their parents along the way. I'm no different. But it took me some time to grasp what my parents have actually done for me.
You see, golf wasn't a big deal in China. I'm from a city called Shenzhen which is about an hour from Hong Kong. By age nine or ten, I knew I wanted to play golf for the rest of my life. My parents saw my potential and wanted to do whatever they could to support that dream. So, by the time I was 13, we moved to the other side of the world, to Orlando, Florida, where golf became our family's focus.
My dad ran a factory in China and hardly spoke any English. To this day, he still struggles with the language. But that didn't stop him from packing everything up and moving overseas. Mom would eventually follow.
It was pretty obvious that my parents believed I could do this. At first, I didn't think about it or see it as an expression of their belief in me because I was so young. I looked at that move as a vacation for them. But now I get how big a step it was. They were putting all their eggs in one basket and betting on me. The best part of that, though, is they never made me feel that way – like if I failed, this would be a huge mistake. I think they knew I wouldn't have been able to play well with that type of pressure.
They believed in me before I believed in me.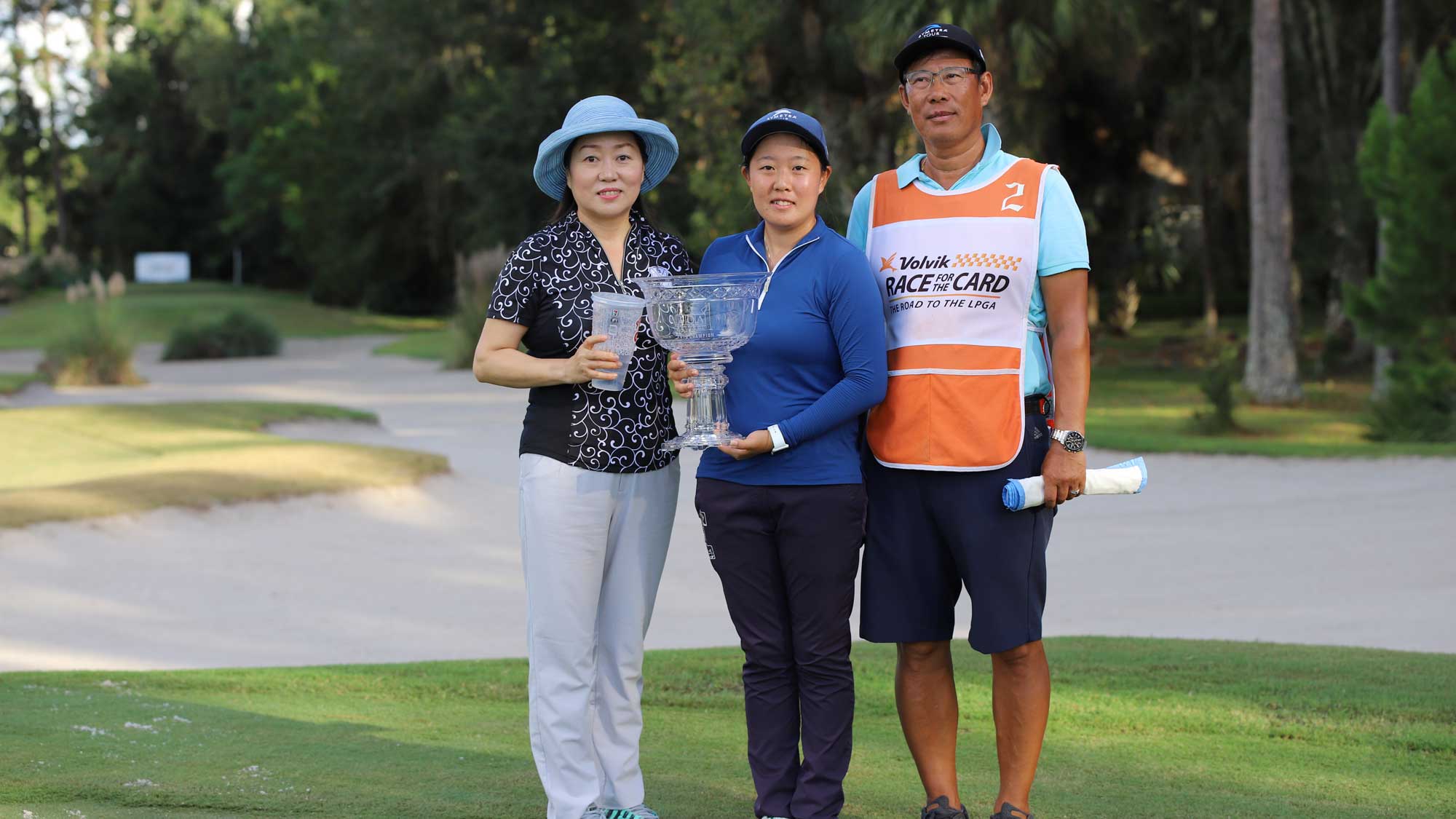 Finding my lane in the United States
When we moved to Orlando, I began training at the ANNIKA Academy. In 2013, just one year after moving to Orlando, at age 14, I got an exemption into the Epson Tour's Volvik Championship. And I made the cut, on my first try. That was a pivotal moment for me. Making the cut at such a young age gave me the confidence to take golf all the way.
While I saw some great success on the course, life outside off of it was hard.
I didn't really fit in at middle school and high school. My parents got me through the rough patches by allowing me to go back home to China on summer and winter breaks. Knowing those breaks were right around the corner every few months made me want to rush everything.
I ended up graduating in three years instead of four, and once I finished high school, it was time to turn my dreams into a reality.
I turned pro as an 18-year-old. On the Epson Tour in 2017 I had the best year of my career so far. Many people know about my 2018 Epson Tour season were I won Player of the Year, but that season started out on a really negative note. I was battling a hernia that took longer to heal than I would have liked. It was tough on me both physically and mentally. But as the end of the year was nearing, things started to click. I carded top-three finishes in my final four starts, including two wins at the Island Resort Championship and the IOA Golf Classic.
After such an exciting year, I had big expectations heading to the LPGA Tour in 2019. Unfortunately, I did not have a great showing.
Learning my lessons
While I was close to making cuts many times, the transition to the LPGA Tour was difficult. I like to think most golfers would attest to that. What made it even more frustrating was understanding that it wasn't my swing but my mindset that was messing me up. It was like I couldn't shake the pressure of the cut line.
I've now spent the last two seasons on the Epson Tour, building my confidence in the place I call home. The Epson Tour is the place that always seems to welcome me with open arms and send me away with nothing but confidence.
After winning the Carlisle Arizona Women's Classic and the Casino Del Sol Classic this year, I've earned another shot at the LPGA Tour. And although I'll be more familiar with the courses and the schedule, I'm nervous about failing again.
But I don't play well in that mindset. So, I reflect on the things that bring me confidence and have served as defining moments: my parents, the Epson Tour, and the Island Resort Championship in 2018. That win reminds me what I'm capable of, and that even through adversity, I am talented enough to be on this stage.
The Epson Tour prepared me. There is no better preparation from a scheduling, course set-up, and talent perspective than the Epson Tour. There is no better opportunity to grow your game.
Most of all, I reflect on my parents who sacrificed their lives, the home they knew, the routines they had, their friends, their culture, all because of the belief they had in their daughter.
A little side note: my dad caddied for me in all six of my Epson Tour wins. That is a powerful part of my story.
For all of those reasons, I'm excited for 2022 and can't wait for another shot at the LPGA Tour.