If you are a frequent follower of the Epson Tour, you may miss her as you scroll through the leaderboard. Heck she held the lead once and her roommate didn't even realize it was her. Her name is Katelyn Sisk as of three months ago. Before that, she was known as Katelyn Dambaugh. And the new last name means more to her than just a title. In many ways, it's a fresh start.
When female professional golfers tie the knot, there is a decision that hangs in the balance - to change their names or remain the same. As an athlete, your last name carries a large part of your identity. It's how people recognize you and the notoriety that comes with all of your achievements. LPGA players have gone both ways when it comes to a new identity. Ally Ewing, Michelle Wie-West, and Lindsey Weaver-Wright are a few that have made the switch. Stacy, Lewis, Annika Sorenstam, Morgan Pressel, and Jessica Korda kept the name on which they built their careers.
For Sisk, it was a no-brainer. When asked if it was a decision she debated, she replied without hesitation, "No." That doesn't mean it hasn't taken a little time to get used to.
Katelyn and her husband, Michael, celebrated their wedding on March 19 of this year. She took two events off for all of the nuptials and returned to play on March 21 at the Casino del Sol Golf Classic. When her caddie returned from picking up his bib with the name Sisk on the back, he was met with surprise.
Sisk explained the memorable moment.
"I didn't know they were going to have it on the bib for my first event back because I just told the tour one week prior," she said. "When Craig walked over with the bib, it was a feeling of excitement. I thought this is awesome - a new chapter of my life."
It's a new chapter that looks to be off to a great start. In her seven starts this season, she has only missed one cut. That happened to be the first event of the year and the only one pre-marriage. At Casino Del Sol she finished T6, which she credits to still being on a high from the wedding. She'd go on to have a top-5 and top-20 finish. She says her husband perks up and says the great play is all due to the new name.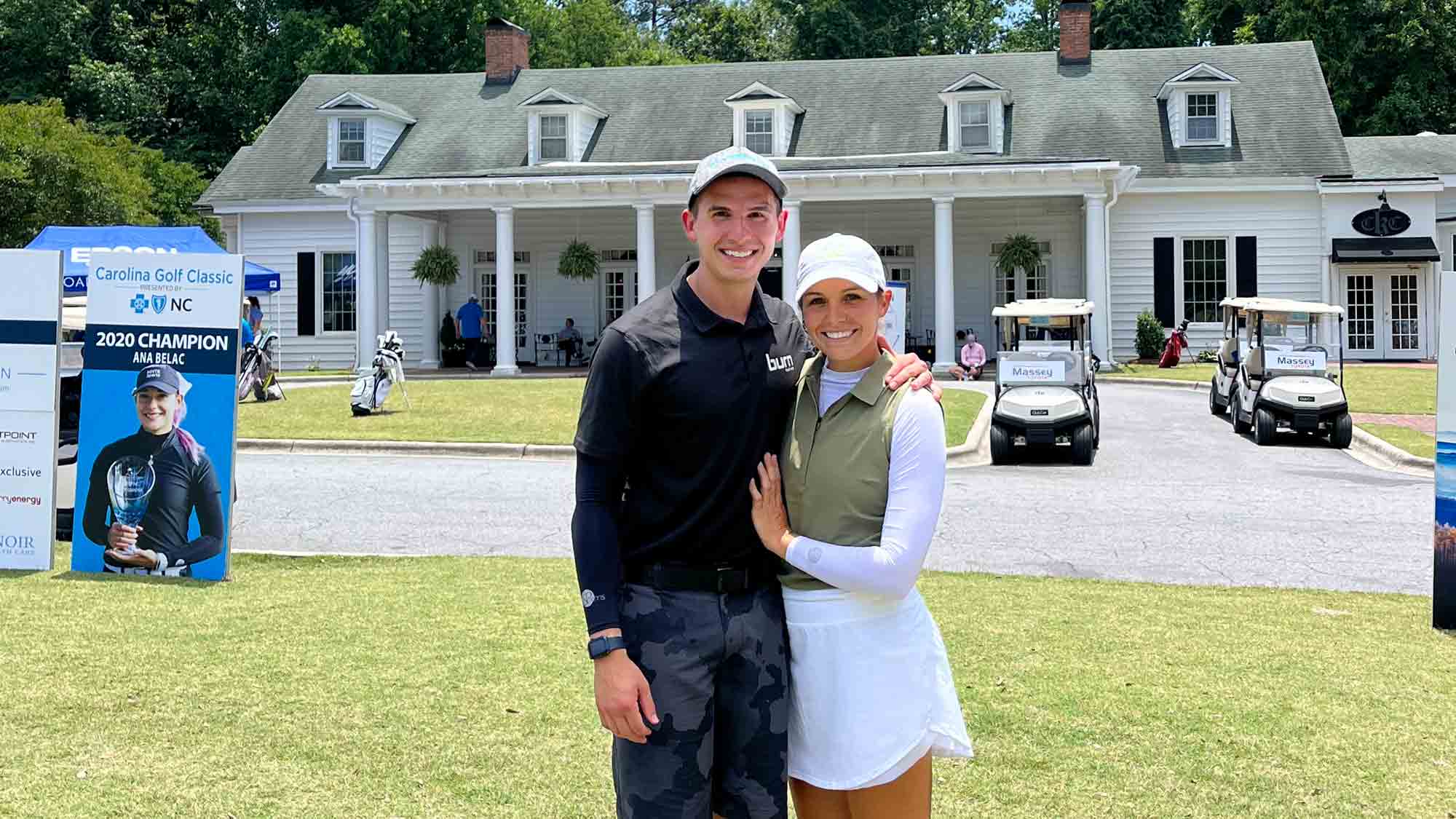 There might be some good juju in Sisk, but Katelyn Dambaugh has a very successful past. She had a record-setting career as a Gamecock at the University of South Carolina. Some highlights were medalist honors at the 2017 SEC Championship and being named First Team All-American twice. Coming off a hot senior year, she plowed through half of the 2017 Epson Tour season and earned her LPGA tour card. All of that success brought recognition, but also an identity wrapped up in the game of golf.
"Everyone has always known me as Katelyn Dambaugh - the golfer. People always associated my name with golf," Sisk explains the effects of her previous achievements. "I want to build something different with this last name. I want to make this a name for me."
In establishing herself in this new chapter, she's not leaving her clubs behind.
"I would like people to know Katelyn Sisk plays golf and recognize me on a leaderboard or tee sheet," she said. "However, I've never wanted people to see my name and be like that's the golfer. I've wanted something else my entire life. I want to be more than that and I think now I can start building a life within but also beyond the game."
It seems she's flying under the radar and under par on this fresh scorecard of life and golf. If you're scrolling through the leaderboard this week, don't skip Sisk. It's a clean slate and a great story on establishing a life in and out of the game.