They carried us in the womb, swaddled us as infants, and pushed us in strollers as babies. When we got our feet under us as toddlers, we took some weight off their legs and put it on ours. They held our hands as we learned to put one foot in front of the other, but eventually, we'd let go and learn to walk on our own. In our teenage years, we'd embrace this new independence and walk further away from them than they would have probably preferred. Some may have spread their wings and flown to colleges where air travel was the only way to stay connected during those four years. However, some twenty years later, they are back to carrying, pushing, and holding our hands.
Who are "they," you ask? Our moms. We've all heard of tour kids, tour caddies, tour dads and tour wives, but have you heard of tour moms? If not, it's time we shed light on these "angels in training" and give credit where it is due.
Out on the Epson Tour, any given week you'll find players accompanied by their moms. A comforting companion to keep life somewhat steady in the continually changing environment. Besides making world-class PB&J's and serving as uncertified sports psychologists, many tour moms muster up the strength to throw our bags on their backs or push them on a cart for the grueling six-day tournament week. Most of us are in our twenties so if you do the math, our moms aren't in their peak performance age. Yet, as they have done since the moment they brought us into this world, they suck it up and push on. A strength that can only be powered by motherly love.
I've been the lucky recipient of this love for years and it's one I've leaned on since I turned professional just over a year ago. In a few short months of playing the tour, I learned that the road was leaving my heart lonely and legs tiresome. The one thing keeping me company was the continual phone calls I received from my mom day in and day out. She'd ask how I was doing, and I always reminded her that all was good. But they say mothers have a sixth sense and hers was telling her otherwise. She decided a phone call wasn't enough and she wanted to be by my side. Since that time, my mom has accompanied me on tour every so often and taken the weight off my legs and heart. The weeks she is with me always have a brighter overtone despite the outcome of my play. My mom keeps things light, seeks out fun in every place we visit, and often reminds me how crooked this game of golf is. It's a refreshing perspective that can only come with some 60 years of life and raising four kids.
Most recently, she joined me for the first event of the year at the Florida Natural Charity Classic. Going into this season, I had a refreshed perspective that golf is just a game and not life or death. I wanted to maintain this "there is more to life attitude" throughout the season, but I knew it would be difficult during the heat of competition. However, with my mom by my side it was easy. Having a caddie who tells you that you should get a half stroke when your ball is hanging on the edge of the cup sure helps see the somewhat stupid part of whacking a white ball across a well-manicured field for a living.
We had a solid finish in the top 25. After I completed my final round, I went to grab some lunch in player dining before we hit the road for a nine-hour ride. As I grabbed a brownie to keep us up for the end of the drive, a rules official asked me, "was that your mom caddying for you?" After confirming with him that it was, he said to me, "That is awesome. Enjoy it. It won't last forever."
That was something that I always carried in the back of my mind, but when those four simple words came out of his mouth, it turned my gut. A reminder to cherish these moments. When I look around a tournament site and see moms and daughters, side by side, it warms my heart. It's a beautiful image that I hope both sides embrace and appreciate.
****
It is an experience that Carley Cox and her mom, Jennifer, share week in and week out. Carley is entering her second full season on tour and has had her mom as a wingman since she took her first steps as a professional golfer. Originally having her mom on the bag was a decision made to cut the costs and avoid the loneliness of your first year on tour. Two years in, Carley and Jennifer haven't gotten tired of each other in the slightest.
When I asked Carley the best part of having her mom out with her, she quickly replied, "The memories. We joke now about the places we've been and the memories we will look back on for years to come."
They get it. This time won't last forever but the memories will. This mother-daughter duo won't shy away from creating them when the opportunity presents itself.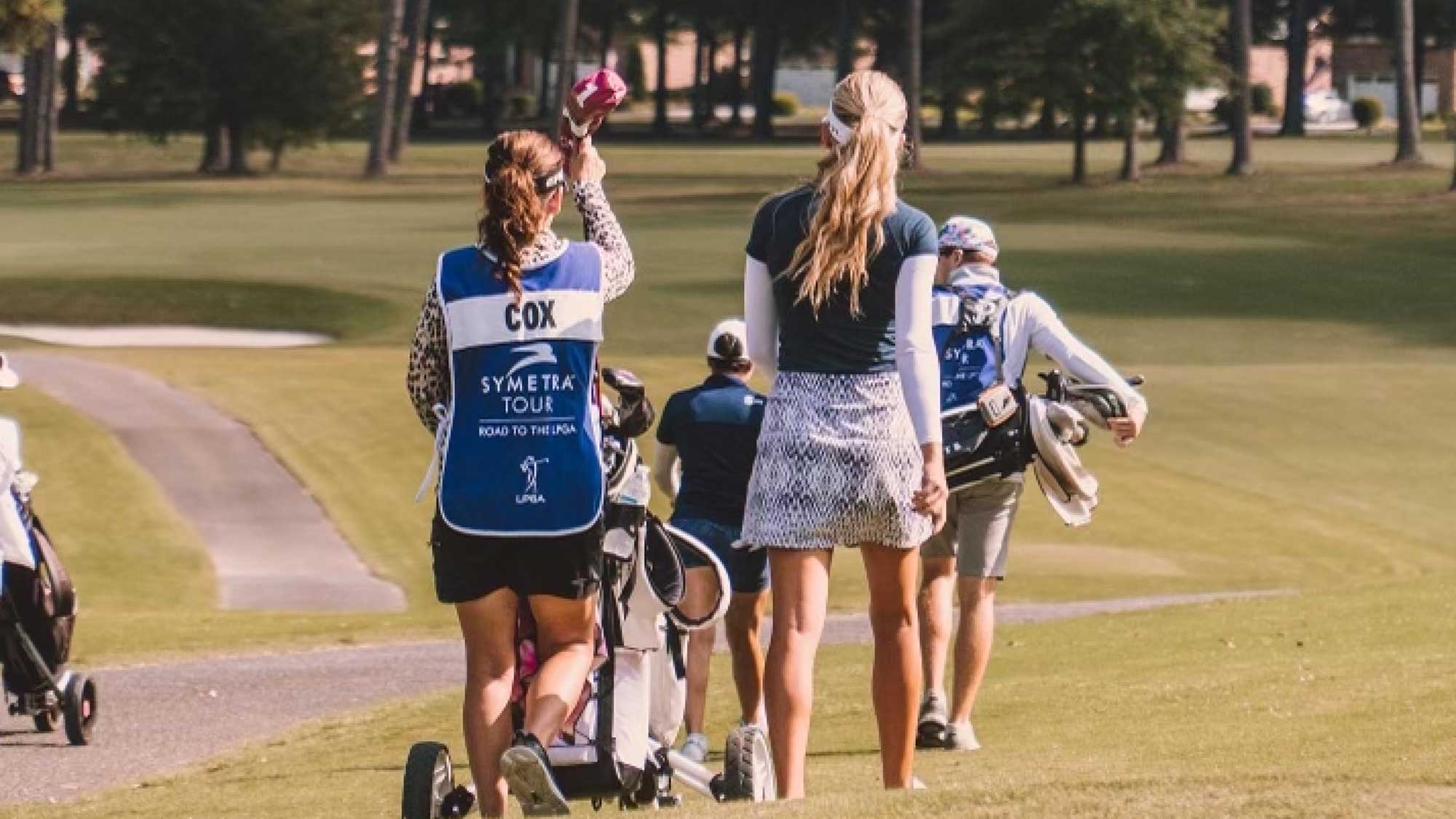 Carley says, "When we play well, we treat ourselves. We'll go to a Mexican restaurant. You know - chips and queso with margaritas. We love that."
This was a celebration they could use after the grueling test of 2019 Q-School when Jennifer made her debut as a tour caddie. Through the heat of Palm Springs, California in August, Carley and her mom earned a spot in stage 2 and solidified some status for the 2020 Epson Tour Season. At that moment she said, "We just hugged it out. A huge sigh of relief for both of us and it represented the birth of my professional career."
The one who birthed her into this world just helped birth her career - a bond unlike any other.
****
Last week, at the IOA Championship, I was paired for the first two rounds with Linnea Strom. The last time Linnea and I teed it up together was in a practice round at the Florida Natural Charity Classic when I had my mom on the bag. Last week, the roles were reversed. I arrived at the first hole and placed my bag on the ground. Linnea quickly asked, "Did your mom go home?" After telling her she did, she quickly introduced me to her mom, Helena, who was on her bag for the three-week west coast swing.
If I thought my mom traveling from Pennsylvania to Florida to caddie was a lot, it paled in comparison to Helena. She flew all the way from Sweden to lug a 20-pound golf bag through the deserts of Arizona and California. It was a price she was more than willing to pay since COVID travel restrictions prevented this opportunity last season.
"It means a lot to have her on the bag," Linnea said. "She knows me the best and will always support me no matter what. I think I also get a bit more of a homey feeling when she's with me at tournaments. It's been tough during COVID to not have my family be able to travel to the US, I was pretty lonely and that also affected me on the course. So it's nice to finally be able to have family here again. "
As I trotted along by myself, I watched as the pair walked the fairways as if they were on a Sunday stroll. Frequent smiles, high fives, and shouts of laughter were signs to me that these two were enjoying the moment.
Not only did they enjoy each other's company, but Linnea was enjoying the game. An easy round of 71 on Friday put her in a good place to make a move on Saturday. In round two, Helena and Linnea walked briskly to a five-under 67 and were in contention to capture the title, which is exactly what they did. Another 67 in the final round led Linnea to the win.
She walked away with a trophy and her mom by her side.
Just before leaving the course to catch my flight, I ran over to congratulate Linnea who was surrounded by friends, photographers, and tournament officials. In the shadow of the limelight stood her mother, teary-eyed and smiling as she watched her daughter succeed. She stood in the shadows at that moment, but I hope this piece brings her hard work to light.
Tour moms are often in the background, but they are the little engines behind our big dreams. They've carried, pushed, and walked with us through every stage of life. I've realized regardless of how old I get I'll never grow out of my mother's love. Her sacrifices, hard work, and constant worry are debts I'll never be able to repay. My only hope is to pay it forward to my own kids.
From sippy cups to margaritas, let's cheers for our moms - tour moms or not, they deserve to be celebrated.