As I'm about to begin my first season on the LPGA Tour, I am reminded of the path that led me to realizing this dream. Looking back, my journey started when I first walked on Stanford's campus as a student and member of the golf team. During my four years on The Farm, I made my way to classes, practices, early morning workouts, and late-night study sessions. In addition to the demands of a student athlete's schedule, I had a hard time managing the expectations and pressures I felt on the golf course.
Fortunately, I had incredible support from my college coach, Anne Walker. She encouraged me to persevere, assuring me that becoming mentally stronger on the golf course would transfer to all aspects of life. She also helped me develop an appreciation for the game by teaching me how to practice and improve while also having fun with my teammates and enjoying travel across the country.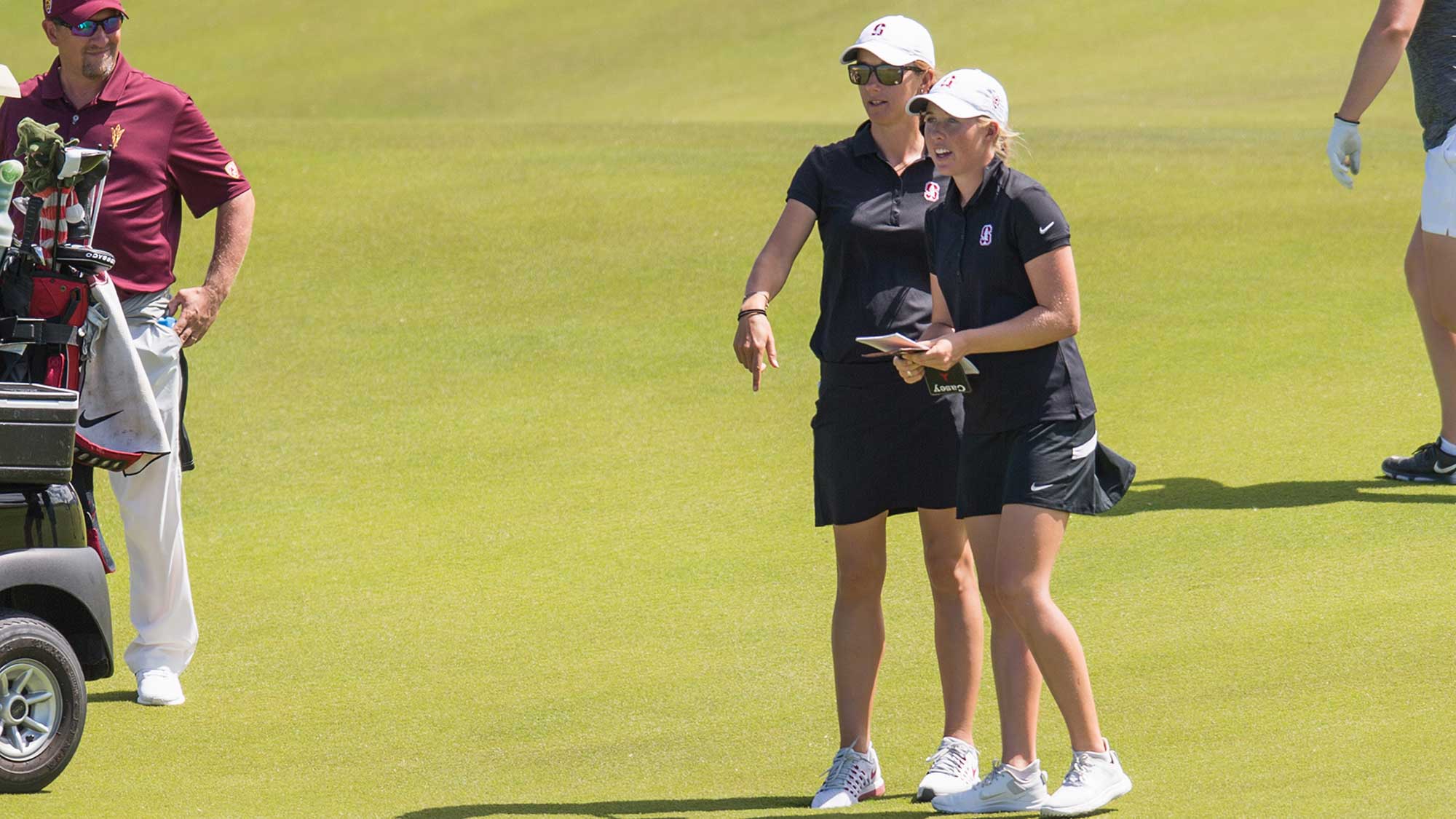 Even so, the pressures of competitive golf made me wary of turning pro and my senior year I apply for various jobs in preparation for graduation. When I went to my first interview, something didn't feel right. In between people in suits with briefcases in hand, I didn't feel like I belonged. More importantly, I realized where I did belong—on the golf course.
Later that same day, I had the opportunity to play golf with LPGA Hall of Famer Juli Inkster, since she occasionally practices at our on-campus facility. As we chatted, Juli's journey on the LPGA seemed fun and challenging, exciting and intense. I was inspired to pursue my own journey in professional golf and soon started preparing for a life far from suits and briefcases.
I turned pro after graduation and played a summer of professional events—sponsor invites, state opens, and mini tours. In August, I experienced the first setback of my career when I didn't make it through the first round of Q-School, meaning I wouldn't have a chance to play on the LPGA or Epson Tour the following year. After getting over the initial disappointment, I was determined to find another path. I signed up for Ladies' European Tour Q School and earned full status with the chance to travel the world to play golf. I competed in Australia, Morocco, England, and Scotland.
Later that summer, I received a sponsor's invite into the Epson Tour's Island Resort Championship in Harris, MI. A fourth-place finish came with enough prize money for me to play in more Epson events, which helped me earn status on the tour for the following year.
During the next few seasons on the Epson, I struggled to find my way, to find joy amid the pressures and expectations of pro golf. I knew that if I was going to continue playing on tour I had to make a change, a lasting one.
So, in 2020, I hired a golf psychologist in hopes of finding my way. After a few conversations, our focus became creating a life that I enjoyed both on and off the golf course. We discovered ways to set up my career that made me excited and proud, regardless of outcome. I began spending more time with friends, taking time off, and exploring the places we traveled to. And I worked on detaching my worth from my golf scores and instead focused on continuing to learn and improve each week.
There is no doubt that this work led me to my first win on the Epson Tour in May of 2021.

I was excited to reach this milestone in my career, but it also brought back feelings of expectation and pressure. I continued to work on my new outlook, even through the missed cuts that followed. The foundation I created with my golf psychologist helped me maintain perspective through the post-win setbacks. I eventually found my way again and had my second win in July. And this time I knew how to handle it.
By the end of the season, I finished third on the money list and earned full status on the LPGA Tour. Competing in the highest level of professional golf, I will undoubtedly face pressure and expectation. I am grateful for the tools I have developed to help me face this upcoming challenge and I look forward to finding joy in life on the LPGA Tour.