Betsy Kelly took a risk. That risk was in the form of a letter she penned to the CEO of Carlisle, Chris Koch, asking for a sponsor's exemption into this week's Carlisle Arizona Women's Golf Classic. And Kelly doubled down when she walked into the Carlisle offices and hand-delivered that letter, requesting that it be given to Koch in the hopes that she'd be awarded a spot in the field.
"I've been in the finance world for the last eight years alongside my professional golf career and so I've nonstop worked with business owners, and I kind of understand their minds at this point," said Kelly. "I sat back and I'm like, 'I really want to get into this tournament. It's right in our backyard. I'm gonna write the CEO, Chris, a letter.' And I wrote him a letter.
"I drive by Carlisle every single day. It's right next to Kierland (Golf Club). I hit drivers at it, I can literally see it from the range. So I just walked in there. I felt like I was not supposed to be there. But I went up in the elevator and dropped it off."
Like going for a par 5 in two, sometimes the gutsiest of moves can pay large dividends. Kelly's decision did just that and the native Minnesotan is set to tee off at 1:19 pm on Thursday in the opening round at Longbow Golf Club.
"I actually got a call back. After I got the call back on the ladder, I talked to them a little bit and I was invited out to play golf. He straight told me when I was sitting in the cart with him, 'The reason you're probably sitting in this cart is because you dropped that letter off in person.' A lot of girls were like, 'What did you put in your email?' I'm like, 'I didn't email him. I handed it to him,'" said Kelly, laughing. "It goes a long way. So I'm blessed. I'm so honored to be playing in this event."
Betsy took up golf as a kid after her dad introduced her and her brothers to the game. The Kelly family lived on the eighth hole of Forest Hills Golf Club in Minnesota and once they learned how to play, they were hooked.
"My parents couldn't get us off the golf course. We were those kids that were out there every single day. We'd play you know, nine or 18 in the morning and then run home and grab lunch, and then we just go back out. We'd chip and putt every night. I started competing when I was seven. I played all the Minnesota Junior PGA events and I started winning at that age. I just fell in love with the game."
After playing collegiately at Colorado State, Kelly decided to pursue her dream of playing professional golf, turning pro in 2016. She had some early success, cashing checks and nearly making it to the top-90 and ties in her LPGA Tour Qualifying Tournament Stage I debut. But things took a turn, leading her to stop playing after the 2017 season.
The life of a pro golfer has unspoken challenges, many of which the general public never sees until a player reaches the top. Maintaining a steady stream of income, traveling to events on an affordable budget, and trying to compete at the highest level are just a few of the stresses that plague young professionals. But for Kelly, the struggles she was facing weren't on the golf course.
"My story's kind of interesting. It's powerful. When I stopped playing golf and I stopped competing, I went into this deep dark hole. It mentally took a toll on me. I've always struggled with eating disorders and at that moment, it kind of killed me a little bit," Kelly recalled. "I went MIA for years because I was struggling so bad. I have videos. I don't have a whole lot of pictures. I wish I had more but if you saw me, you'd be like, holy crap. She has a problem.
"2019 is when I was super lost. I was super unhappy. I wouldn't admit it, I couldn't admit it, that I had an eating disorder. But I did. It took until my family actually forced me (to see it). And I was like, "What is this? I don't do that.' I wouldn't even eat a chip. I wouldn't eat bread, I avoided carbs. I wouldn't eat a banana because society's brainwashed us like, bananas are bad because there's too much sugar. I read so much crap that's pumped out there by the media that I was avoiding carbs because I was terrified that they were going to make me fat. And I was a toothpick. I looked like I could break in half.
"I feel like I was losing passion about everything and was kind of internally lost. Externally, you want to look good and there's so much pressure with society these days. And social media – I have a ton of followers on social media – social media doesn't help. Especially all these younger girls and guys, and they have this perception of what your life is supposed to look like and what you're supposed to look like, and you feel like you're nonstop being judged. The interesting thing for me though, is I looked terrible and I didn't even see it. It's almost like I blacked out for a year."
It was the summer of 2019 on July 6th, Kelly's birthday, that her family staged an intervention and implored Betsy to get professional help. And while at the time she was angry with them and didn't feel like that was the best course of action for her disorder, it was ultimately the beginning of Kelly's breakthrough.
"July 6 2019 was my 27th birthday. And what I thought was my birthday party, which I was actually excited about because I was just going through hard times mentally, turned out to be an intervention to force me to an eating disorder setting. I was pissed.
"I don't think going to those necessarily helped me until I wanted it for myself to get better. And I was bad. The doctor told me that if I don't start eating more, my heart could stop and I didn't care, which is terrible. I put a lot into my faith, too, God kind of pulled me out of it. But the moment was when I was like, I want to do what makes me happy, and I want to play golf. I need to compete again.'
"I'll never forget the exact moment that I decided I wanted to get better. I was talking to the therapists and I'm like, 'I'm playing golf again because that's the light inside me. It's the gear that keeps me ticking. I'm gonna play golf again.' Like a month later, I put on like a whole seven pounds and I went and played an LPGA Monday qualifier. And I took third. I reignited a spark. And I was like, 'I don't look like an athlete. I need to get to work.'"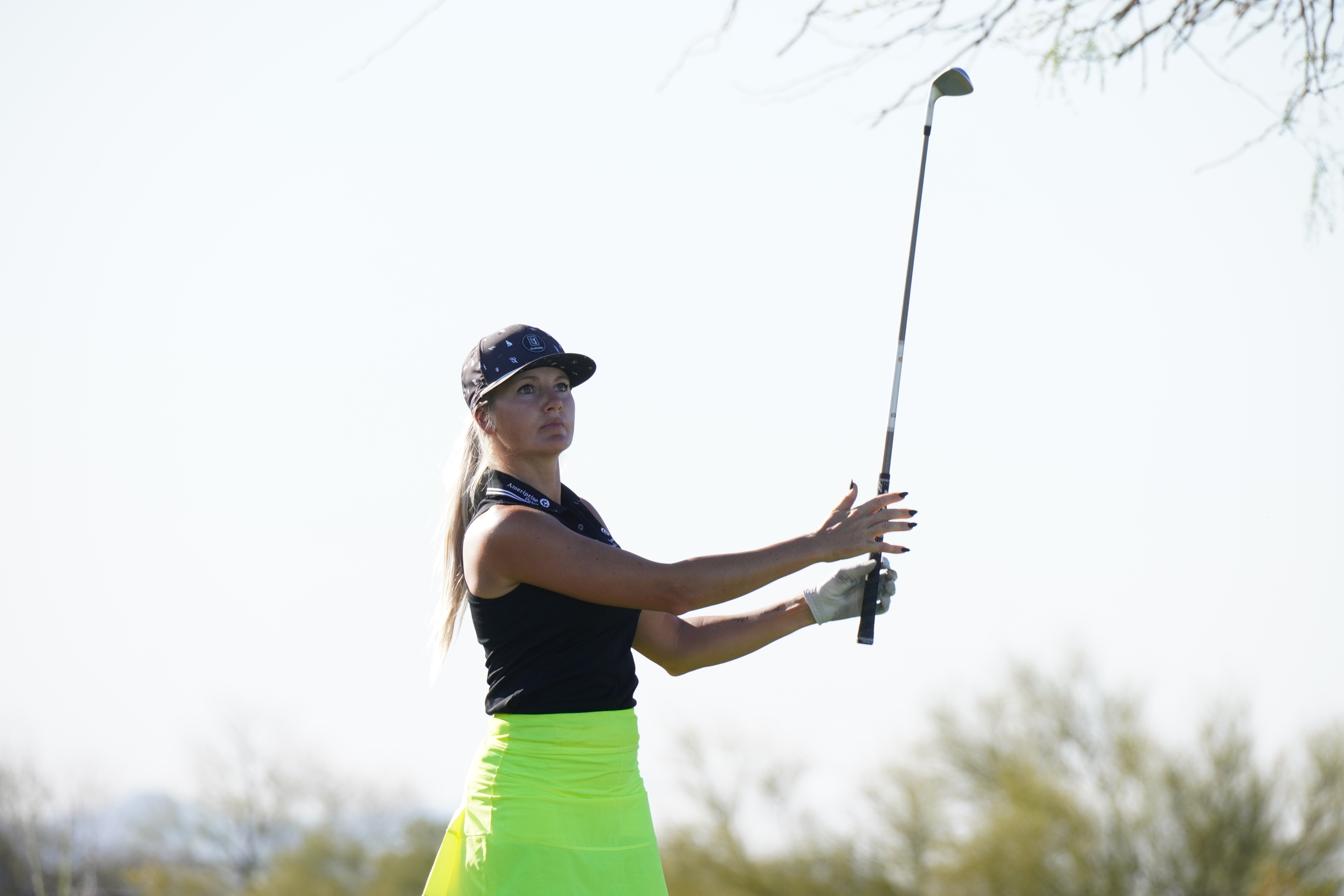 And get to work she did. Betsy turned her focus to physical fitness and committed to daily workouts that she still keeps up with consistently. Eating properly remained challenging, but she found her way, electing to consume a primarily plant-based diet and focusing on the utilization of food to bolster her athletic performance and overall health.
"I learned a ton through this process. I didn't know a whole lot about nutrition and number one, I think food is fuel. Carbs do not make you fat and strong is way better looking than skinny. I've also gone plant-based. I've been eating plant-based now for the last two years. And it's funny, I eat all the carbs. Like I sit here and talk about how I was scared to eat a chip. I thought a chip was gonna make me fat. I ate an entire pizza on Saturday."
Kelly also began sharing her story via social media in the hopes that it could help others having the same experience. Instagram and Twitter feeds tend to be highlight reels, showcasing a person's best moments and highest highs, but Betsy has chosen to talk about her lows and her struggles with her eating disorder in an attempt to keep others from traveling down the same path. She's open and honest and genuine about what she's been through and Kelly knows how important it is to serve as an example to the young women that look up to her.
"I do have such a big following on Instagram that even if a couple of girls sees that and they're struggling with some of those things and they know that, 'Hey, she went through it and look how she overcame that. I can do it.' That means the world to me because I just want to help. We all struggle. I'm not going to tell you I'm perfect. Everyone struggles with something. But we all struggle together and then you see people overcome those things. That to me was why I want to share it."
The Carlisle Arizona Women's Golf Classic marks Betsy's first Epson Tour start since 2017. While her road to this moment has been arduous, it's one that Kelly will savor. With everything that she's gone through in the rearview mirror and with a new, fresh perspective on golf and on life, she's ready to forge ahead, to take advantage of this opportunity, to finally make her lifelong dreams a reality.
"My eating disorder is what hurt my golf career. As soon as I stopped playing golf, it was almost like the light inside me burnt out and I went into a dark hole with an eating disorder. It was the only thing I could control.
"But I think I went through that for a reason. (That experience) has actually helped me out with my golf career because I feel like I've built a better foundation now moving forward. You can do anything if you put your mind to it and if you have the right people around you. And also, do what makes you happy. For me, golf, like I gotta play. It's my gear. And I've wanted to be on the LPGA since I was four years old. God gave me that dream for a reason.
"I can't thank Carlisle enough for the opportunity. I want to win this. I feel like this is my moment. And everything happens for a reason. But I'm ready. Let's have a fun week. I've got my eyes on the prize."