It's the Wednesday practice round for The 2022 Masters at Augusta National. Tiger Woods just walked off No. 13 green and made his way to the 14th tee. Epson Tour member Laura Restrepo and long-time boyfriend Trevor Sluman were among the patrons positioned at the last stop of hallowed Amen Corner. They were awestruck at the sight of the 82-time PGA TOUR winner and five-time Masters champion just a few feet away from their outstretched arms.
"It was my first time, so I was super excited," said Restrepo. "Trevor had been before. His uncle [Jeff Sluman] played in 17 Masters. Augusta National is just insane how pretty and perfect and immaculate everything is."
What happened next was a moment Restrepo and Sluman will never forget, more breathtaking than the blossoming azaleas or even Woods strolling by.
"You're not allowed to have a phone [on the grounds] but you can bring a camera on practice days," Restrepo said. "We asked a guy that was standing nearby if he could take our picture. He said, 'Of course. It's a good thing you asked me because I'm a photographer.' After taking it, he wandered down about 15 yards and Trevor thought that was a perfect in.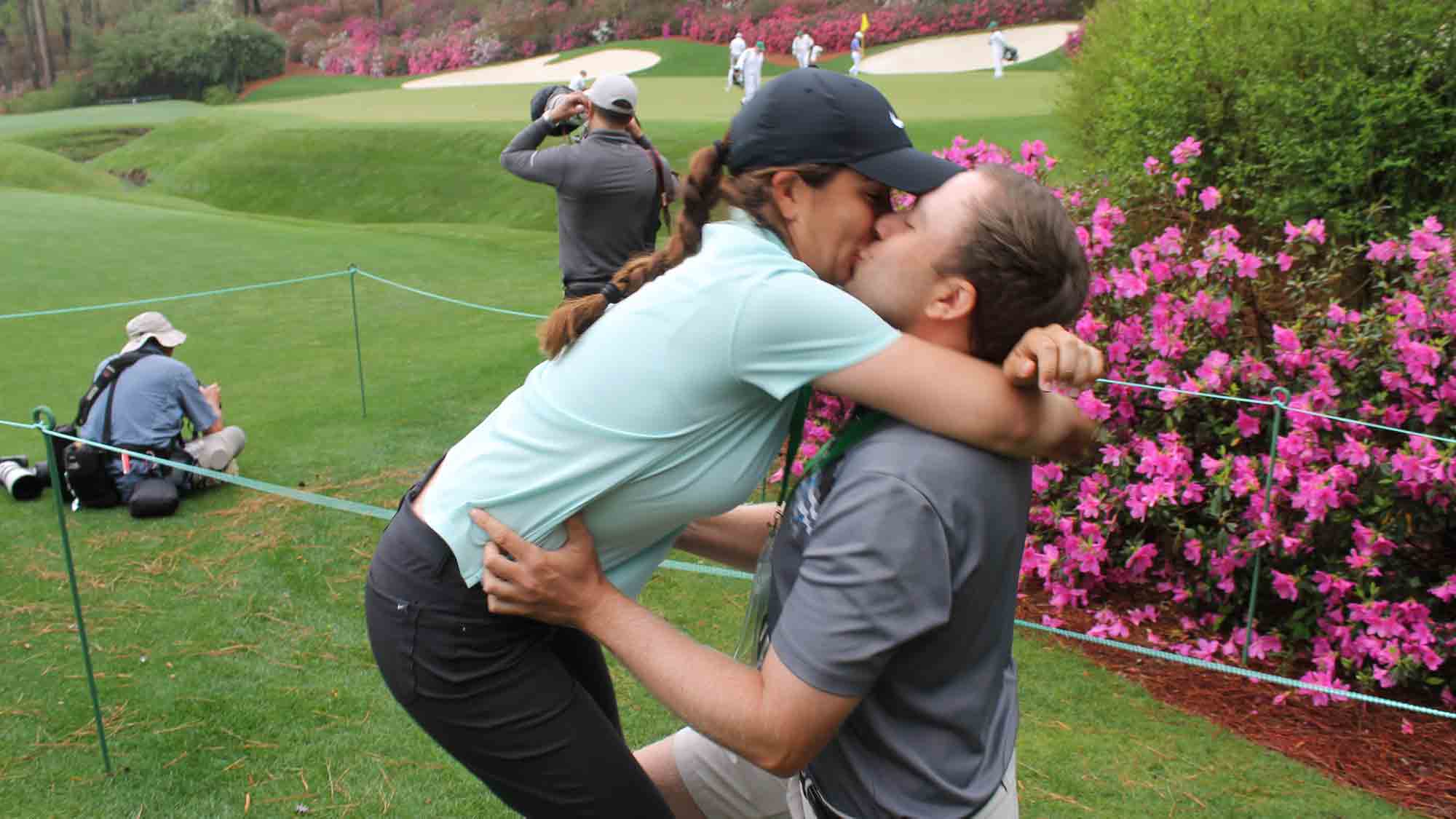 "He told me, 'I'm going to ask him to retake it so you can see the green better.' And I was like, 'Sure.' Trevor went over to the guy and must have told him that he was about to propose and if he would take pictures. I was standing by the green ready to take another picture and Trevor pulled out a ring. I was so shocked. I couldn't believe it."
The couple met during their collegiate days at the University of Louisville, where they competed for the school's respective golf teams, and started dating in 2014.
In April 2019, Sluman won the Sanya Championship on the PGA TOUR Series-China. Five months later, it was time for Restrepo's maiden Epson Tour victory at the Guardian Championship. Now they'll set out on building a life together with hopes of returning to the site of this Masters-ful proposal, only in a different capacity.
"It's a special place for both of us. We love golf so much and that's what brought us together," said Restrepo. "I couldn't think of a better place for Trevor to propose. It was incredible. Every time we were watching after on TV and they showed 13 we were like, 'That's where it happened.'
"The Masters is always going to be very special to us. Trevor was on the Korn Ferry Tour the last two years and now he's playing the PGA TOUR Latinoamérica. Hopefully one day when Trevor is playing in The Masters, it'll take on even more of a special meaning."