A second-round 4-under 68 from Sophie Hausmann (Nottuln, Germany) in the IOA Championship presented by Morongo Casino Resort & Spa was highlighted by two bogeys, four birdies and one eagle on Morongo Golf Club at Tukwet Canyon. The performance by the Epson Tour rookie gives her the 36-hole advantage, a one-shot lead heading into the final round.
"It was definitely a round changer. I struggled earlier on in the round. I had some ups and downs, so coming into the last few holes I said, OK Sophie make some solid shots, you have a couple holes left, especially with a par five, but making eagle is always really fun," said Hausmann. "It was downwind a little bit, but I hit the drive pretty much down the middle and I had 158 in, hit it actually to 2 feet and made the putt."
Last year Hausmann's rookie season started with many unexpected turns from the schedule changes to travel restrictions back home in Germany. Fortunately, she found a friend in LPGA Tour major champion Sophia Popov to spend the quarantine with. Now Hausmann has a second home when competing in Arizona, where she claimed a top-10 last week to start the season at Longbow Golf Club bringing momentum to Beaumont, Calif.
"Last year during the quarantine in March and April I didn't want to go home with COVID-19 and it was pretty much all closed in Germany," said Hausmann. "I thought might as well stay here for a little bit. I was able to stay with her and her parents for about seven weeks before competing at Longbow Golf Club last year and was able to stay with them again last week. We played junior golf together but never competitively. Her and her family are just so nice and down to earth."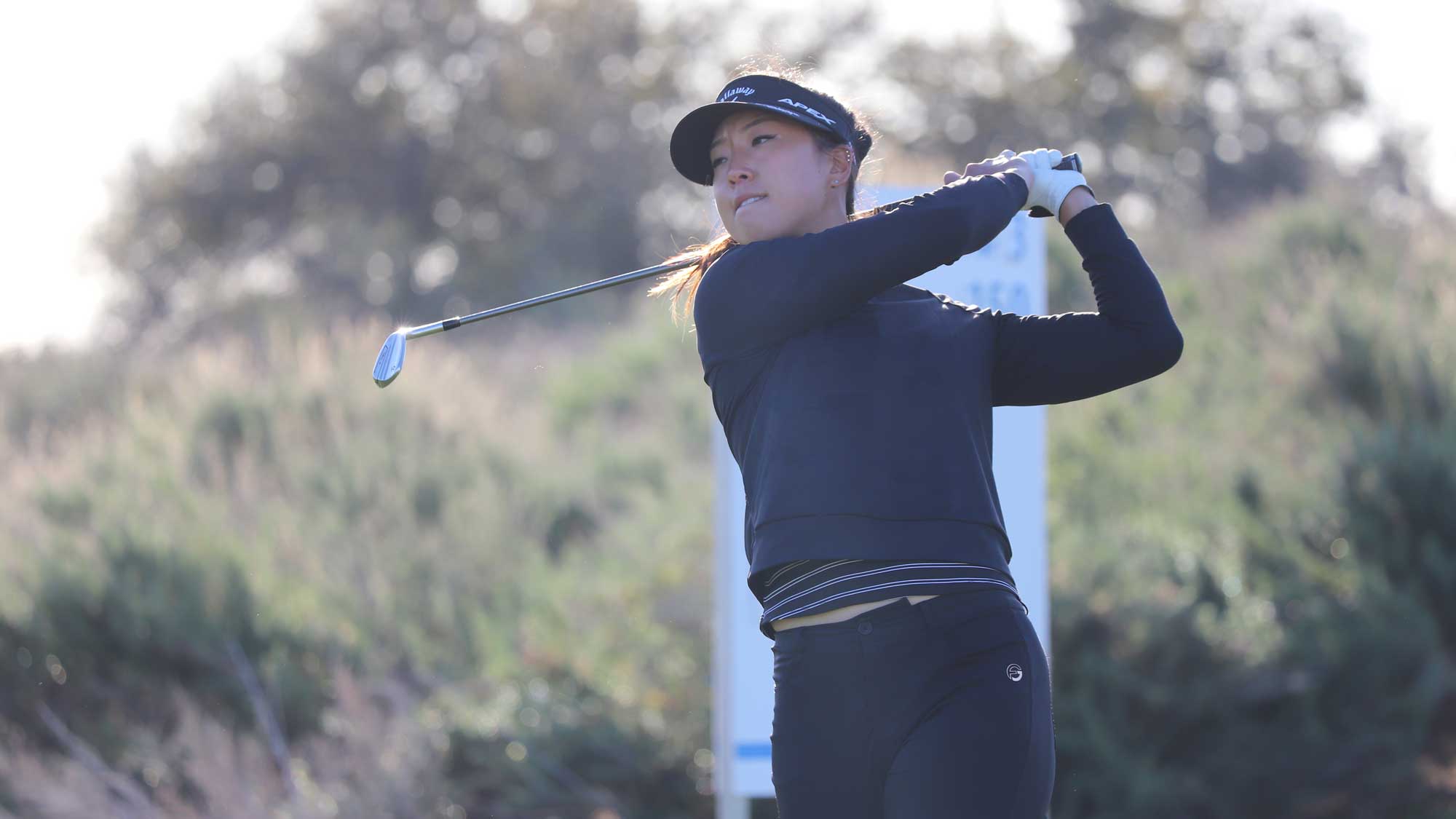 HA SEES OFFSEASON RISKS PAYING OFF IN WEEK TWO
After missing the cut last week at the inaugural Carlisle Arizona Women's Golf Classic, Cindy Ha (Demarest, New Jersey) came into this week hoping to see changes she made in the offseason come together at Morongo Golf Club at Tukwet Canyon.
"During the preseason, it was really tough work. Everything felt so different and so awkward, but you just become mentally tough and really start believing in yourself and trust the process," said Ha. When days like today things aren't going really well, you just have to dig a little deeper and see the lighter side of things and focus on staying positive.
"I didn't really hit well today, and a lot of things went my way, so I just tried to capitalize on that. I had a chip-in on 13 and just rode that momentum all the way into 18. I think you learn a lot about yourself when things really aren't going your way."
A last-minute addition to her game this week was Epson Tour Member Sarah Hoffman (Saline, Michigan) teaming up with Ha as her caddy for the week. With the same goals and dreams in mind to earn their LPGA Tour card, competitors on the Epson Tour step in for each other from time to time when they are not in the field.
"I think that is one thing about our tour. We want the best for each other, but at the same time we are competing against each other," said Ha. "It's tough competition, everyone is so good out her, but it's almost like it's good to be better but if you can help someone out you would do it in a heartbeat. Just having girls supporting girls out here is really good."
Ha is tied for second with Dottie Ardina and Maude-Aimee Leblanc at -7. She will tee-off tomorrow in the final group at 9:50 am PT.
NEW PROFESSIONAL GABRIELA RUFFELS CAME TO COMPETE
Just last month Gabriela Ruffels (Melbourne, Australia) turned professional, despite having no status on the LPGA or Epson Tour. Competing in just her third tournament this week as a professional she is not showing any signs of nerves with a first-round 4-under 68 followed by a 2-under 70 on Saturday. This week she is playing in the field thanks to a sponsor exemption from title sponsor Insurance Office of America.
"I turned pro without any status anywhere which is kind of rare. I was super thankful to IOA (Insurance Office of America) for the exemption spot this week," said Ruffels. "Wherever I can get exemptions I'll take it, especially the first half of the year. I am just super grateful for the opportunity."
Ruffels is not the only professional golfer in the family. Her brother, Ryan, is competing this week on the Korn Ferry Tour at the Club Car Championship at the Landings Club. He carded a -7 on Saturday to move up 24 spots on moving day. Both siblings go into Sunday in red numbers and looking to claim their first professional win.
"It's so cool. I feel like this is the first time we are playing the same week. So, it's really cool, especially to see him post a great number. He has been struggling a little bit, but I know he has put in the work and it's nice to see it pay off," said Ruffels.
NOTABLE QUOTES
Maude-Aimee Leblanc (76, T2) on leaving some putts out there and when golf became No. 1 in her life:
"I didn't give myself as many birdie opportunities today, but I still feel like I hit it pretty well. I didn't make as many putts as yesterday as well. I played basketball in high school, but my junior year I had to two choose between the two and I picked golf. I think I made the right decision. When I realized I was pretty good I also noticed it was hard to have a future with other team sports, like basketball, so it seemed like the right career choice."
Dottie Ardina (-7, T2) on learning during each round in her rookie season:
"I feel like there were some approach shots out there today for me that I was in between clubs and it was hard to judge. I had a pretty hot front nine with five birdies and one bogey, but I struggled on my back nine. I think tomorrow I am just going to continue what I am doing and focus on my game. I think the mental toughness comes from being out here for eight years. I think it takes experience to feel that way, but I am definitely still learning."
Sophia Schubert (-6, T5) on playing with LPGA Tour veteran Kristy McPherson:
"It means so much. She has had an incredible career, played in the Solheim Cup and was on the LPGA Tour for so long. It was a lot of fun. We got to play together a few years back and when I saw that we were paired together again I was pretty excited. It just great to be around her and watch her game."
Jacqui Concolino (-5, T7) on what fueled her for the Move of the Day from T44 to T7 on Saturday:
"I honestly didn't eat much this morning. I had a banana, a couple clementines, a cup of coffee and a bunch of snacks on the course but it worked out. It was great to make a move. It was nice to see some work I have been putting in pay off on the front nine. It was a tale of two nines, but that is just golf for you. Just have to keep the momentum going into tomorrow."
PLAYER NOTES
Sophie Hausmann
Born January 1, 1997
Hausmann is a native of Nottuln, Germany
Won the 2016 German International Ladies Amateur Championship
Qualified for the 2018 U.S. Women's Open Championship as an amateur
Two-time Big Sky Conference Player of the Year for the University of Idaho
Represented native country at 2016 and 2018 World Amateur Team Championship
Four-time All-Big Sky First Team selection and a two-time medalist for the Vandals
Competed in the inaugural Augusta National Women's Amateur (ANWA) in April 2019
Finished T41 at Stage II of the 2019 LPGA Qualifying Tournament to first earn Epson Tour membership as a 2020 rookie
· Made six cuts in ten starts in 2020, with four top-20 finishes including a season best of T9 at the Founders Tribute at Longbow Golf Club