VU TAKES HOME THIRD TITLE THIS SEASON
A final round 5-under par 67 performance proved to be all it took for Lilia Vu (Fountain Valley, California) as she secured victory at South Bend Country Club by finishing 12-under par in the Four Winds Invitational.
"I feel really good, definitely played pretty well. The course was super difficult, today. Especially since the greens dried out pretty well. So, we had to really focus on hitting to the front yardage or just short of the pin," said Vu. "I think because it's Sunday, it's the last day, there's nothing to lose. There's no pressure. You can just try and play your best golf. So, that's what I just try to do."
At University of California Bruin, Vu was the Pac-12 Conference Golfer of the Year just a year before turning professional on the LPGA Tour. While things didn't work out as planned, she found herself questioning whether she should continue playing golf. Time and time again this season she credit her mom as her rock to keep her fighting for the game she loves. Today, she continued to prove this is where she belongs with her third win this season, and fifth consecutive top-5 finish.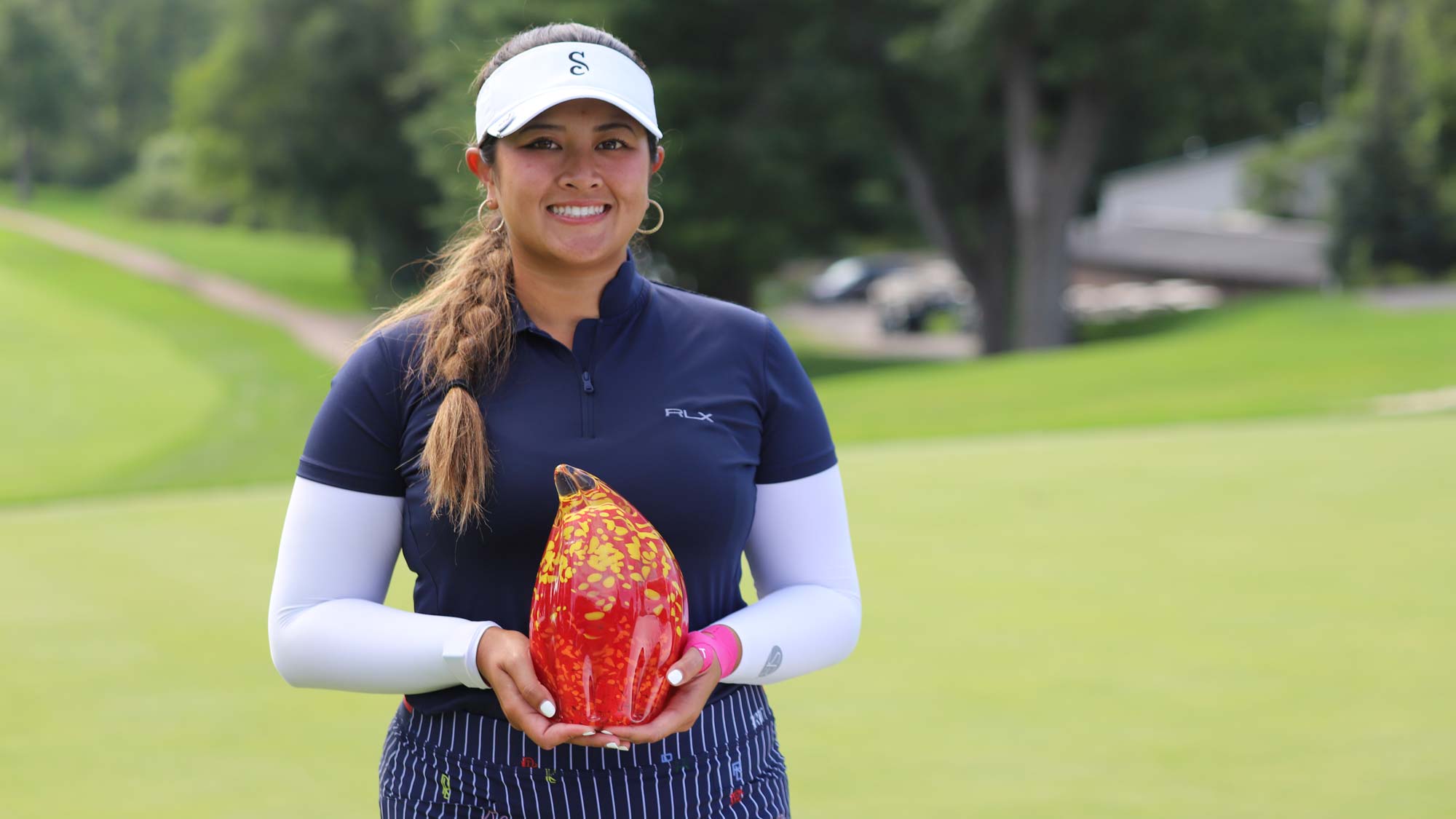 VU COLLECTS EIGHTH ANNUAL POTAWATOMI CUP
In addition to winning the 15th tournament of the Epson Tour season, Lilia Vu also collects the 2021 Potawatomi Cup and $8,000 in bonus prize money.
The Four Winds Invitational served as the third and final event of the series sponsored by Potawatomi nation tribes for a eighth consecutive year. Before raising some hardware in South Bend, Ind., Vu finished tied for 2nd at the FireKeepers Casino Hotel Championship to accumulate 710.75 total points and win over Fernanda Lira (Mexico City, Mexico) with 580 points.
"It means a lot to win the Potawatomi Cup. I didn't start out great in Harris, MI, so I am super happy to finish well on the last two events," said Vu. "I am also so honored to win the cup, as well as all other players are super grateful for the tribe has allowed us opportunities to earn extra money at Epson events."
RACE FOR THE CARD STANDINGS AFTER WEEK FIFTEEN
Following the 15th tournament of the 2021 Epson Tour season, the Race for the Card reshuffles and adds one new face.
The victory and $30,000 winner's check helped Vu maintain the No. 1 spot with $140,607 earned through 14 total starts this season. Here is a look at the current top-10 heading into the Circling Raven Championship:
Lilia Vu - $140,607
Ruixin Liu (Guangdong, People's Republic of China) - $95,281
Casey Danielson (Osceola, Wisconsin) - $84,741
Maude-Aimee Leblanc (Sherbrooke, Quebec) - $81,554
Fatima Fernandez Cano (Santiago, Spain) - $77,623
Rachel Rohanna (Marianna, Pennsylvania) - $70,027
Morgane Metraux (Laussane, Switerzland) - $65,189
Amanda Doherty (Atlanta, Georgia) - $62,999
Allison Emrey (Charlotte, North Carolina) - $57,955
Isi Gabsa (Munich, Germany) - $54,268

NOTABLE QUOTES
Ruixin Liu (-10, 2) on fighting through the pressure of the end of the season:
"I really didn't feel good this morning before I teed off. You know I feel a lot of pressure; especially with getting a bogey on No. 1. I think after the bogey, I kind of relaxed a little bit because started I bad. It gave me more momentum going forward. I think that's why there's so many birdies today. It feels really good (to be going home to China next week), especially after a stressful year. I'm going to take my time and relax. I'm going to play a tournament over there and see what happens."
Robyn Choi (-9, 3) on feeling confident in seeing her game come together this week:
"I mean it feels good. I kind of feel like I've got my game back a little bit. I was struggling a lit bit with putting the least few weeks and I think putting was the biggest part of the game this week. So, it feels good. I mean watching those putts drop is always a good feeling. I have my game back and know that I can play and be up that leaderboard."
Elin Arvidsson (-8, T4) on having fun on the course in South Bend:
"I was thinking about what Casey said a couple of weeks back, after French Lick, to kind of just try and stay in the present and don't think so far ahead. I think that's what I haven't been doing by myself for a long time over the last a couple weeks and worrying about everything in the future. This week just having a caddy and Adam here has really helped me to like to stay in the present and like we had so much fun on the course. And it felt like it wasn't so much about the golf this week. It was more about just having a good time."
PLAYER NOTES
Vu is a native of Fountain Valley, California
Helped lead Team USA to victory at the 2018 Curtis Cup, earning four points
Member of the 2018 Arnold Palmer Cup and USA World Amateur Teams
As a UCLA Bruin, was awarded 2018 PING WGCA Player of the Year, Pac-12 Conference Golfer of the Year and Honda Award finalist, also three-time WGCA First Team All-American and All-Pac 12 performer
Ranked first on the all-time UCLA career victory list with eight individual titles
Finished T27 at the inaugural LPGA Q-Series to earn Priority List Category 14 status for the 2019 season
Made on cut in nine starts on the LPGA Tour in 2019
Made three cuts in seven starts on the Epson Tour in 2020 with a season-best finish of T29 at the Four Winds Invitational
Claimed first professional win at the 2021 Garden City Charity Classic