LEBLANC JUMPS OUT TO 18-HOLE LEAD
Making her first start at the IOA Championship presented by Morongo Casino Resort & Spa on the Epson Tour, Maude-Aimee Leblanc (Sherbrooke, Quebec) carded six birdies and one bogey in the first round for a 5-under par 68. Her final birdie of the day followed a drive that flew 342 yards down the ninth fairway.
"It was a pretty good drive. It went a lot further than I thought it would. I think it went 342 [yards]. It was downhill, down wind and had a nice 7-iron into the green," said Leblanc. "I think that is what I did a good job with today, take advantage of the par-five. As a long hitter, you have to do that out here."
Just two years ago, Leblanc said she would be stepping away from golf professionally. But the game changed for the Canadian during the unprecedented year that 2020 was. She returned to the links with a renewed passion and fire, a love that she aspires to continue this season all with a fresh perspective.
"I thought I was 100% done with it. I wasn't in a good place mentally with the game," said Leblanc. "The pandemic happened to be a good thing for me. It put a lot into perspective. I found the passion and the joy again. I don't put as much pressure on myself, which I think has changed a lot."
Leblanc will take a one-stroke lead heading into Saturday in Beaumont, Calif.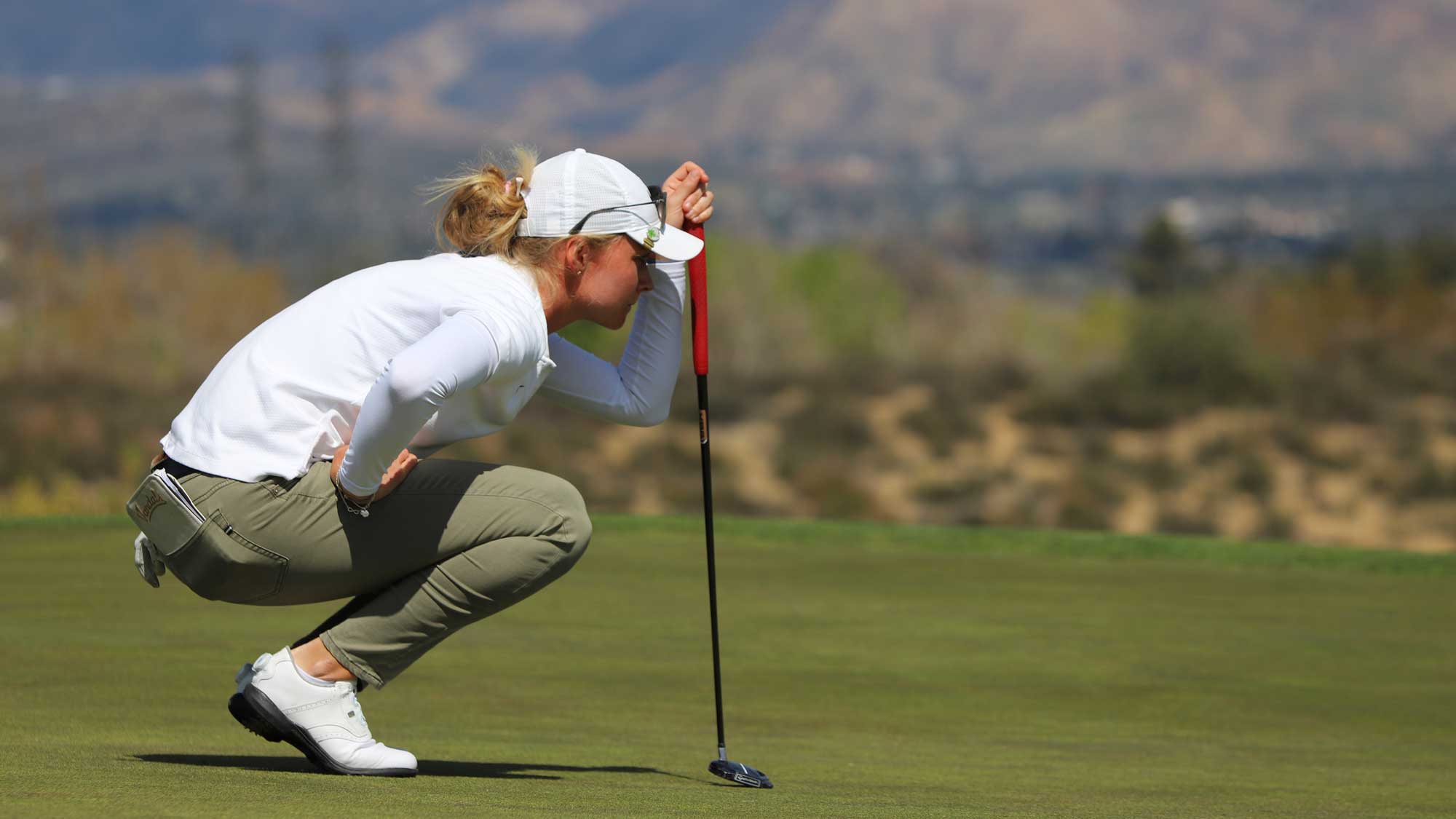 HAUSMANN KEEPING UP THE MOMENTUM
Escaping the strong winds from the morning, Sophie Hausmann (Nottuln, Germany) recorded four birdies, two bogeys and one eagle for a 4-under 68 in the opening round and sits just one stroke back from the lead.
"It was real solid golf. I made some good putts today but put myself in really good position. I think under par is always a solid start. Looking back at how I played here last year I said, 'Sophie you have to get over it, it's a new year," said Hausmann, who missed the cut in Beaumont last year.
After a tie for sixth in the inaugural Carlisle Arizona Women's Golf Classic last week, Hausmann continues to learn and grow each week in her rookie season. She recognizes where her game is at and has taken the time to spend with professionals around her to learn from the best.
"I definitely have to stay patient. My ball striking is good and it's nice to see putts going in as well," said Hausmann. "I try to stay positive and take the positives from last week while also remembering it's a new week and just taking it shot by shot. In the off-season, well I practice a lot, but also spent a few weeks with Sophia [Popov] which was good too. Just trying to take it each week at a time."
THREE MORE PLAYERS JOIN HAUSMANN IN A TIE FOR SECOND
Joining Hausmann with first-round 68s are Dottie Ardina (Laguna, Philippines) and Gabriela Ruffels (Melbourne, Australia). Both players sit one shot back of the lead in Riverside County and are determined to prove themselves after their finishes at the Founders Tribute.
"I was just trying to keep it in the fairways and hit the greens. If I make a putt, it's a bonus, "said Ardina. "I am trying to play as steady as I can, and I think it worked out even though I made a couple bogeys. There are some holes out there, like the par fives, are birdie holes. It was a pretty good round.
"Tomorrow I am really just going to do the same thing, I don't look too much at scores or the scoreboards, I try my best to take it hole by hole and stay in the present. Last year was rough. I think it was because I didn't get to have a lot of practice. When I went back home, we were on lockdown for about four months, and I flew back here before I was fully ready, but I tried my best. I made a couple cuts here and there on both tours, but hopefully will do better this year."
Meanwhile, the University of Southern California alumna Ruffels is competing in only her third start at a professional. Last month, she competed in the Gainbridge LPGA and a Cactus Tour event.
"I started with a bogey and wasn't too happy about that," said Ruffels. "I had a rough start the first six holes, only hitting one green, so I was making a lot of good up and downs but really happy with how I finished. My parents live an hour east and my college is an hour west, so it really feels like home out here."
NOTABLE QUOTES
Brianna Do (-3, T5) on finding momentum early in the first round:
"My goal was just to stay warm this morning especially the front nine. It was really cold. I got some putts to drop early and chipped in for eagle on No. 4 so that kind of got the ball rolling. I've played here so often I am pretty comfortable with my lines and the greens on where they break and where they don't."
Sophia Schubert (-3, T5) on building off the first week in Mesa, Ariz.:
"I saw my tee-time and knew it was going to be cold, but you have to be prepared for any type of weather. I knew I wasn't the only one who was going to have to deal with it so I got up and got out here. Being the first group off you also don't have wait on anyone and the sun came out which was really nice. I came off a 7-under on Sunday which was really nice coming right into this week. When you don't play great sometimes you want to take a week off to practice but when you play well it's nice to be able to being the momentum into the next tournament."
Cindy Ha (-3, T5) on offseason changes coming together in week two on the Road to the LPGA:
"It feels great to be competing. We had a longer offseason so to see what I have been working on feels great. I took on a lot of risk this preseason. I moved to a new place and new golf course, I changed coaches, I changed my swing, so I did a lot of rebuilding. It was the most intense preseason that I have had ever, just because it takes a lot of work and grind. It was good to see when you have a round like this that all the hard work is paying off."
Celine Herbin (-2, T8) on how her game this week compared to the season opener in Mesa, Ariz.:
"We appreciated that the sun came out on the last few holes. It was very cold this morning, I think 4 or 5 Celsius, but it was not windy, so it was ok. My game was similar to last week, I still need to figure out my driver through. I am still one or two fairways off of what I am used to, the number of greens were good, but I should be under par on the par. It is going to be very tight until the end, my feeling it is going to come down to the last hole. I will stay patient and give myself a chance like last week."
PLAYER NOTES
Maude-Aimee Leblanc
Leblanc 32, is a native of Sherbrooke, Quebec
Won the 2010 NCAA Team Championship with Purdue University
Won the 2006 International Junior Orange Bowl and 2006 Canadian Junior Championship
Member of the Canadian National Team for six years
Finished tied for seventh at the LPGA Final Qualifying Tournament, where she earned Priority List Category 11 for the 2012 LPGA season
Has 17 career top-10 finishes on the Epson Tour, still looking for her first win