TOURNAMENT TROPHY INSPIRED BY DESERT COURSE DESIGN
The inaugural Founders Tribute is named in honor of the 13 Founders who paved the way for females in golf by establishing the LPGA Tour in 1950. There is additional meaning this week as well, with a custom design tournament trophy created by local sculptor Joan Waters. The piece features layers of cutout steel with varying patinas and includes symbols of nature found in and around Longbow Golf Club.
"I was honored to be invited to design the trophy for this year's prestigious event," said Waters. "The one-of-a-kind welded steel sculpture I created recognizes the path forged by the original 13 Founders and celebrates the unique beauty of this desert setting. It will be exciting to know the champion will raise my creation on Sunday."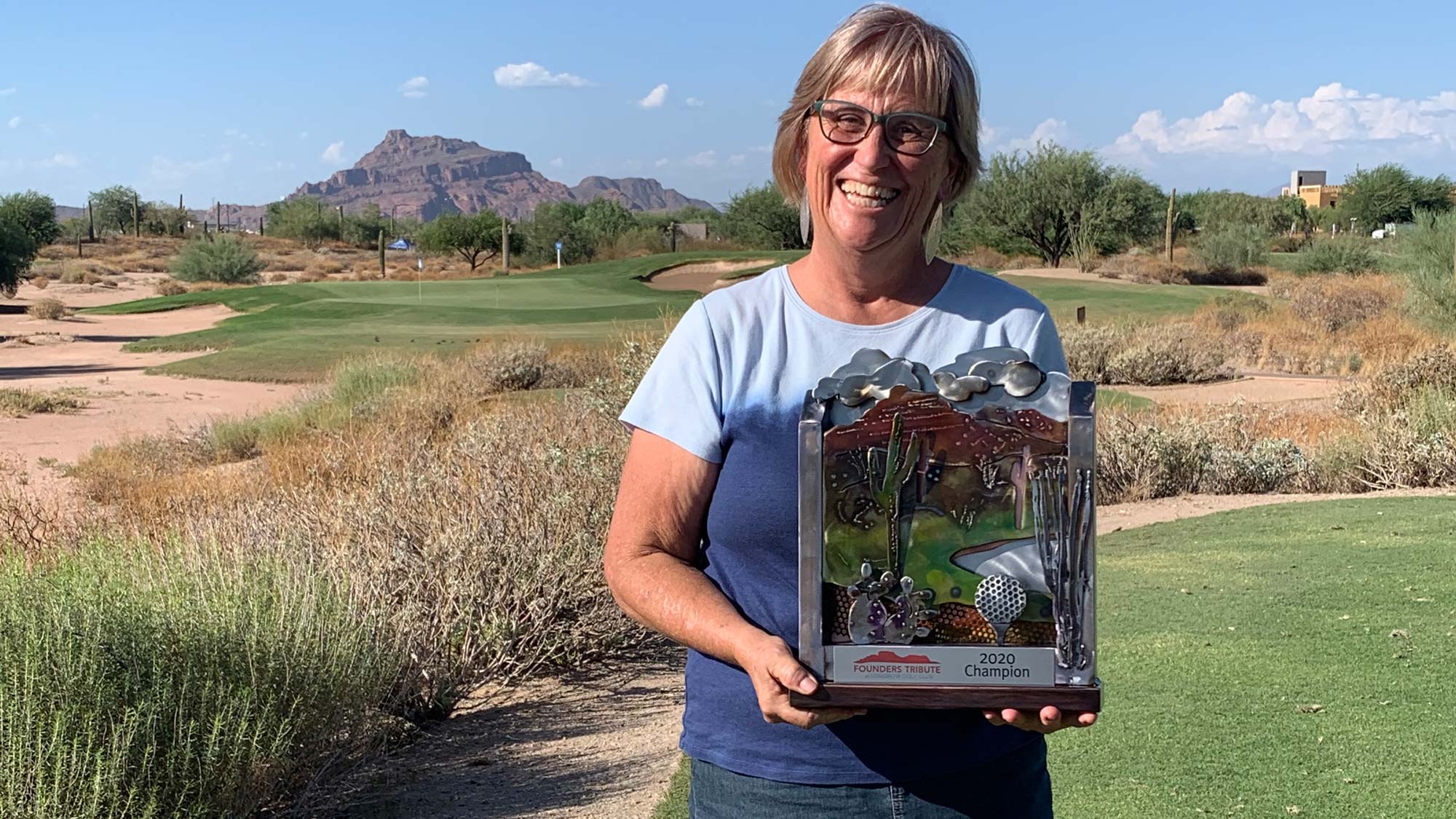 Waters exhibits her work extensively in the Scottsdale and Phoenix area, as well as the East Coast. Her work is found in several public and private collections. Recent commissions include public art for City of Chandler, City of Phoenix, Mesa Permanent Sculpture Collection, Mesa Community College, Copper Sun Child Center and the Burton Barr Central Library. Waters was the guest curator of the Herberger Theater Gallery for the 2007 season.
SCHULTZ CAPTURES FIRST PRO WIN IN CALIFORNIA
Prior to Founders Tribute tournament week, Elizabeth Schultz (Walnut Creek, California) stepped into the winner's circle for the first time as a pro at the 2020 Women's California State Open on Aug. 5.

With windy conditions and challenging pin placements at Bear Creek Golf Club in Murrieta, Calif., the field was tested. Schultz opened play with a bogey on No. 1 and quadruple bogey at No. 6, then settled in and found a rhythm. After the rough start, she knew she had to embrace the course and conditions.
"Typically, that is where I might snowball but I think my experience over the years helped me and I was ready to bounce back," said Schultz. "I finished the round with a 4-over par 76. I felt like I played good golf besides No. 6, so I went into the final round with the mindset to simply play a solid round. Winning was not even on my mind."
Over the final 18 holes, Schultz's putter caught fire and she consistently found herself sinking long putts to save par and build momentum. She followed each bogey with a birdie and nothing could knock her down. Schultz mentioned that her focus was at its peak potential to help claim her first professional win.
"On No. 17, I drained a near 60-foot putt for birdie to win by one stroke. I am pretty sure that putt was the deciding factor," said Schultz. "It was unreal and I didn't expect to win. There were players that still finished behind me and the thought of where I was on the leaderboard didn't cross my mind."
EPSON TOUR RETURNS TO LONGBOW
The Founders Tribute may be an inaugural event on the Epson Tour, but it marks the fifth appearance at Longbow Golf Club in the history of the "Road to the LPGA."
Previously, the Tour traveled to the Grand Canyon State for the Gateway Classic from 2013-2015 and in 2017. Previous Epson Tour winners at Longbow Golf Club include Jaclyn Sweeny in 2013, Alena Sharp in 2014, amateur Hannah O'Sullivan in 2015 and most recently Liv Cheng in 2017.
"We have enjoyed bringing the Epson Tour to Longbow Golf Club many times through the years," said Mike Nichols, the Chief Business Officer of the Epson Tour. "We are especially grateful for their willingness to work with us during this challenging time and to help honor the contributions of the 13 LPGA Founders who paved the way for our athletes."