WHITE WINS FOUNDERS TRIBUTE IN EPSON TOUR DEBUT
Sarah White (Grand Rapids, Michigan) may have been born on July 5, but she provided plenty of fireworks this week at Longbow Golf Club including a walk-off birdie on No. 18 this afternoon to win the inaugural Founders Tribute in her Epson Tour debut. She earned a spot in the field as a Women's All Pro Tour (WAPT) exemption and credits WAPT for preparing her for this exact moment.

"When I was playing at the WAPT event [Texarkana Children Charities Open], I actually didn't win but I took fifth place. I was really proud to get a top five finish and the Epson Tour exemption was icing on the cake because I knew that I could compete out here. Here I am, the Founders Tribute champion," said White. "It was a great opportunity to show the other girls competing on the WAPT that it is possible to make it. I only played a couple events with them, but they truly prepared me for this."

After turning professional earlier this year, White goes from Non-Member exemption, to Epson Tour champion and now the newest Member on the "Road to the LPGA." It's a moment she has always hoped for—winning a pro tournament, playing against the best and securing membership on a pro circuit.

"It's a dream come true," White said. "I have dreamt about being a professional golfer since I was five. I was competing today with Sophia Popov and next week she is competing at a LPGA major. Being able to keep up with some of the girls who have more experience than me is humbling because I know I can do it. I proved it today and just have to continue working hard."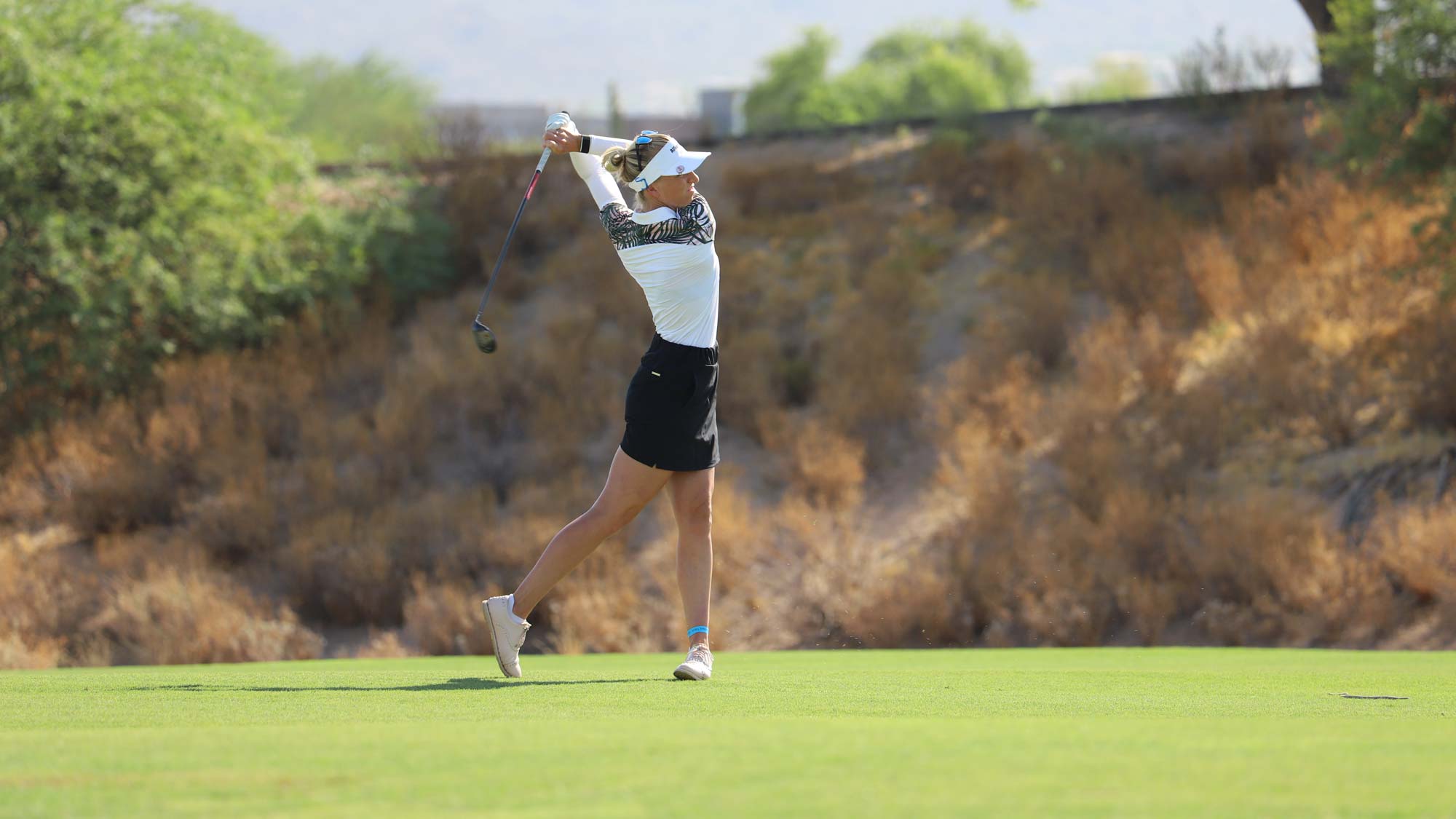 POPOV FINDS SILVER LINING IN RUNNER-UP FINISH
The end result at Longbow Golf Club was not what 36-hole leader Sophia Popov (Heidelberg, Germany) hoped for, but what seemed like misfortunes of a tied for second finish quickly gave way to realization that no matter what, she's still bound for the AIG Women's Open.

Popov carded a 1-over par 37 going out, including a bogey at No. 3 and double bogey on No. 8. She then managed to right the ship, coming back with a bogey-free, 3-under 33 back nine. It left her just one shot outside of a sudden death playoff opportunity.

"I thought I fought back nicely, made a lot of good putts but it just was not enough," said Popov, who finished at 14-under overall. "I was in the middle of a divot for a chip shot on No. 17 and had a big putt lip out down the stretch. It felt like things were not quite on my side. Sarah [White] played really well."

It will be a quick turnaround for Popov, who hops on a flight to Scotland tomorrow morning. She'll then undergo LPGA Tour testing protocol for COVID-19 and barring any setbacks, tee it up in a practice round on Wednesday. The blues from falling just short of her first Epson Tour title will undoubtedly fade as she inches closer to competing in her first LPGA major championship since 2018 (and her first Women's Open since 2011).

"I am playing really well right now and every shot is going just about exactly where I want it to go," said Popov. "Nothing is going to change next week except for the weather, which I will have to adjust to and be prepared for by working on some low shots. I am excited to be there and have the opportunity."

VOLVIK RACE FOR THE CARD STANDINGS AFTER WEEK THREE
Following the third tournament of the 2020 Epson Tour season, the Volvik Race for the Card money list welcomes a fresh top five.

Because the victory and $18,750 winner's check for White came as a Non-Member, her winnings are not official in the Volvik Race for the Card. After her win she accepted Epson Tour membership and money that she earns the rest of this season will now count toward the 2020 Volvik Race for the Card.

Here is a look at the current top-10 heading into the fifth annual IOA Championship presented by Morongo Casino Resort & Spa hosted by Morongo Golf Club at Tukwet Canyon in Beaumont, Calif., from Aug. 21-23:

1. Ruixin Liu (Guangdong, People's Republic of China) - $31,261
2. Janie Jackson (Huntsville, Alabama) - $31,246
3. Bailey Tardy (Norcross, Georgia) - $17,334
4. Sophia Popov - $13,058
5. Kim Kaufman (Clark, South Dakota) - $12,835
6. Daniela Iacobelli (Melbourne, Florida) - $11,771
7. Fatima Fernandez Cano (Santiago de Compostela, Spain) - $10,782
8. Casey Danielson (Osceola, Wisconsin) - $10,764
9. Lakareber Abe (The Woodlands, Texas) - $8,805
10. Dewi Weber (Groningen, Netherlands) - $7,401

NOTABLE QUOTES
Epson Tour CBO Mike Nichols on Sarah's win and partnership with WAPT:
"The depth of women's professional continues to grow, and sometimes due to poor play during one week of Q-school or other personal circumstances, quality players can sometimes fall through the cracks. The goal of the partnership with the WAPT that we started last year was to provide a quality competitive outlet for these players while affording them the opportunity to onboard to the Epson Tour if they could prove themselves when provided the opportunity. Sarah's win today was exactly the type of opportunity we were looking to create."

Casey Danielson (-14, T2) on her overall performance:
"I think that is my highest finish on the Epson Tour and my third time being one shot from a playoff. I played really solidly this week, hit it really close, made putts and stayed patient. Yesterday, it was hard to stay patient coming off a 7-under 65, you want things to happen and I kept hitting it to 20-25 feet and it's tough to make those. Playing later in the day in the heat was also a mental grind as well. It happens, and you learn from it."

Kim Kaufman (-10, 6th) on improving her mental game this week:
"I didn't play very good on the back nine but not because I was tired—not because I woke up and felt beat. I think hydrating is why I was able to do well this week. I think this course is where you really had to make birdies, and really press it. I think I did an ok job staying patient and realizing I didn't have to birdie every hole. I haven't been to the tournament in Beaumont, but I heard it's a good golf course and I just need to stay patient next week. That's my key word. I work with a mental coach a lot and focus on staying within my game, playing the course and not the girls. Easier said than done, but something I will continue to work on."

Frida Kinhult (-9, T7) on the experience of playing in her first Epson Tour final pairing:
"When I started the round today, my brain was in the future. I was probably 4-over through five and I told myself that I am not even close to the lead now, so why not make a couple birdies. Started to roll a couple putts and saved couple pars, actually saved some bogeys as well, but I had a strong finish. I knew going into this weekend to keep myself in the present, but learning that again was a good reminder I will bring for next week and hopefully I will be in contention again."

PLAYER NOTES
Sarah White
Born July 5, 1997
Turned professional in January 2020
White is a native of Grand Rapids, Michigan
Appeared on the ABC reality television series Holey Moley
2014 MHSAA Division I State Championship medalist for East Kentwood H.S.
Starting goaltender for two seasons on East Kentwood H.S. varsity ice hockey team
Attended Western Michigan University before transferring to Texas State University
Earned three top five finishes for Bobcats in 27 events played during three-year career
Competed in 2018 U.S. Women's Amateur Championship at The Golf Club of Tennessee
Finished fifth at the 2020 Texarkana Children Charities Open on the Women's All Pro Tour to earn exemption into the Founders Tribute for her Epson Tour debut