Duke University alumna Ana Belac (Portoroz, Slovenia) found momentum on the back nine during the first round of the Carolina Golf Classic presented by Blue Cross and Blue Shield of North Carolina, starting with an eagle on No. 10. She added four more birdies and went bogey-free coming in to end the day on Pinehurst No. 9 with a 6-under par 66 and one-stroke lead.

"I couldn't get to the green in two on No. 10 and I didn't want to risk it, so I just laid up in a good distance I liked and holed out on the next shot," said Belac. "I even had some mud on the ball, and I was wondering how is that going to spin on the green. After that, it kept me going on the back nine."

Her senior season as a Blue Devil was cut short due to the COVID-19 pandemic, but Belac started her rookie campaign on the "Road to the LPGA" when the Epson Tour returned to competition in July. Since the restart at the FireKeepers Casino Hotel Championship, she has not missed a cut and claimed three top-10 finishes. The 23-year-old is learning more each week and being back in North Carolina has her feeling the pressure to succeed, even in the comfort of her home away from home.
"I started a little bit nervous for some reason. I know it's my 'home ground,' but at the same time expectations are a little higher," Belac said. "It's really nice not having to travel far and being familiar with everything around me when I got here, even just where the clubhouse and driving range are."


EMREY FINDING CONFIDENCE IN HER HOME STATE
A bogey-free, 5-under par 67 in the Carolina Golf Classic first round has Allison Emrey (Charlotte, North Carolina) one shot back of the lead. The performance is her lowest round of the 2020 season, so far.

"I like that it's a shot-makers course, I feel like it sets up well for me and I like how every hole is different so I feel like I can move on from one hole to the next and not overthink too much," said Emrey, who recorded five birdies this afternoon. "Looking to tomorrow, I think I'll just practice a little bit and try to remember all the good shots from today and all the good putts."

She may be one of five players in the field from North Carolina, but she is one of many in the field with ties to the Pinehurst area. In 2009, she won the North & South Junior Championship and went on to compete collegiately for Wake Forest University.

"I grew up playing junior tournaments in Pinehurst. I had not played No. 9 previously, but love the feel of the courses and love being here," Emrey said.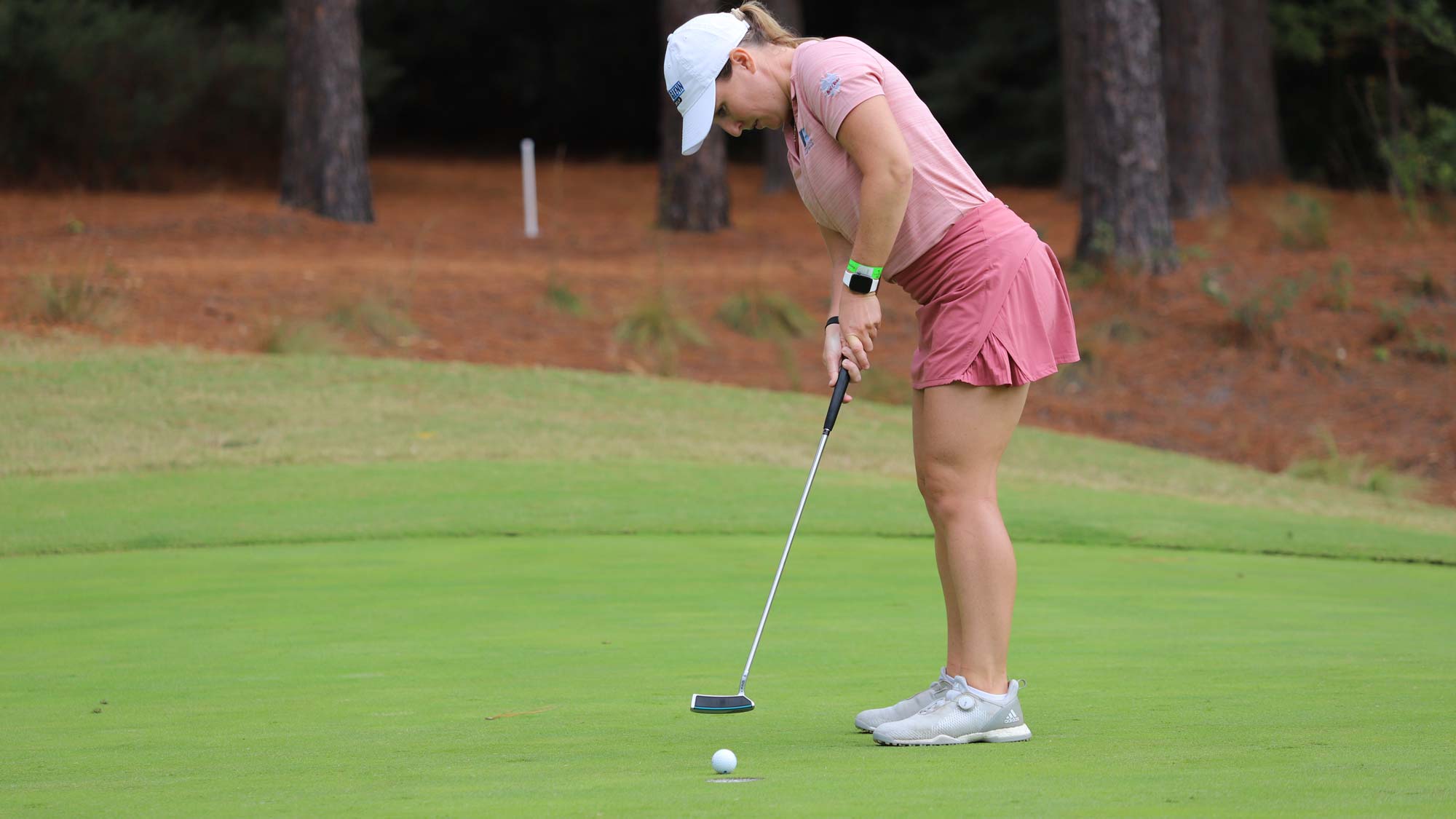 TOTLAND HAPPY TO SEE HARD WORK PAYING OFF
Despite a bogey on her opening hole, Furman University alumna Taylor Totland (Tinton Falls, New Jersey) found five birdies around Pinehurst No. 9 and went bogey-free the rest of the round to shoot 4-under par 68 and sit tied for third after day one.

Totland has made two cuts in five starts on the Epson Tour this year and with the shortened season, she and her coach have worked hard on how to make the most of it.

"My coach and I are counting this is a developmental season and this gives me the chance to really work on swing changes during competition since I will have the same status next year," said Totland, who won the 2020 Georgia Women's Open. "It gives me a chance to work on things. I've spent a lot of time in Hilton Head with my swing coach, probably go see him once a month, and work on my putting with him as well."

Earlier this season, Totland claimed a career-best finish of tied for 13th at the IOA Golf Classic presented by HomeValue.com. She earned another top-20 at the Four Winds Invitational going tied for 18th. She is joined by two fellow Furman alumnae in the field this week in Haylee Rae Harford (Leavittsburg, Ohio) and Laura Wearn (Charlotte, North Carolina).

NOTABLE QUOTES
Clariss Guce (-4, T3) on her game coming together:
"I was just a little apprehensive about the driver, but I felt like today was actually really good. I was able to give myself a few good looks and roll a few in and got lucky in a couple of breaks too so everything kind of went my way. Back in California, we weren't able to really practice as much as I'm used to, but I came here a week early and I was able to practice on my short game because I felt like the entire year really, I was hitting the ball really good, I just didn't have the short game or the putting."

Gigi Stoll (-3, T5) on how the course compliments her game:
"I think this course kind of fits my game. There are a lot of left to right holes, and I play fade so that's helpful off the tee and then I didn't really waste any shots out there. I kept it together, a lot of good up and downs, and a couple that you might kind of adjust to differently tomorrow."

Madison Pressel (E, T29) on Pink Day for Breast Cancer Awareness:
"We all wore pink today for breast cancer awareness. It was really cool to see pink out on the course everywhere you looked. So many of us are personally affected by it or know someone who is, it was honestly incredible to see the amount of support out there today. I don't think there was a group out there that didn't have pink."

PLAYER NOTES
Ana Belac
Born January 28, 1997
Belac is a native of Portoroz, Slovenia
Signed with Sterling Sports Management
Two-time winner of the Leone di San Marco
Represented native country at 2014 Youth Olympic Games
Member of victorious International Team at 2019 Arnold Palmer Cup
Two-time All-ACC selection for Duke University as sophomore and junior
Earned co-medalist honors at 2017 Landfall Tradition and 2019 East Lake Cup
Competed at the inaugural Augusta National Women's Amateur in April of 2019
Named a 2020 Women's Golf Coaches Association (WGCA) First Team All-American
Led the Blue Devils to the 2019 NCAA Championship team title for the seventh in program history
Finished T61 at Stage II of the 2019 LPGA Qualifying Tournament to first earn Epson Tour membership as a 2020 rookie