PINEHURST, NC — This week the presenting sponsor, Blue Cross and Blue Shield of North Carolina, picked Shasta Averyhardt (Flint, Michigan) and strong>Emilia Migliaccio (Cary, NC) for sponsor exemptions to compete this week. On Monday, Averyhardt joined Blue Cross NC for their Virtual Executive Women's Day discussing "Taking Back Your Time: Balancing Life at Home and in the Workplace."
"I saw that was I was number three alternate list and I knew that I had written in for an exemption his week. I was wondering when hey were going to make this decision," said Averyhardt. "Then last week I had a quick call with Blue Cross NC, and on the call the invitation was extended for Pinehurst. I kept my composure as best I could, but when I got off the call I was overwhelmed, and I was telling the people around me 'I just got a sponsor exemption'."
Competing this week as an amateur, Migliaccio, is no stranger to Pinehurst. Growing up in the host state, she has competed from junior events to collegiate tournaments around the area. Migliaccio currently competes for Wake Forest. The Demon Deacons are also represented this week by alumni Cheyenne Woods (Phoenix, Arizona), Nannette Hill (Palm Beach Gardens, Florida), Allison Emrey (Charlotte, North Carolina), and Sierra Sims (Tampa, Florida).
In her first three years at Wake Forest Migliaccio was named two-time First Team All-American and won the ACC Championship last year. With her junior season cut short, she was looking for opportunities to compete when she came across the Carolina Golf Classic presented by Blue Cross NC.
"I saw that there was an event in Pinehurst, and I thought this would be such a good opportunity. I'm just going to do everything I can, and we'll see what happens," said Migliaccio. "A few weeks later I got an email from Rinko Mitsunaga, who I know well since she played at Georgia, and she told me congratulations on the exemption. was just ecstatic. It's really special to be able to play in my home state and have my mom caddie for me. She grew up playing on Pinehurst No. 9 when it was called Pinehurst National."
When Migliaccio is not on the course, she enjoys writing. In fact, in 2018, she published her first novel "Just an Illusion." Enjoying each new story and learning more about different types of literature, Migliaccio is most inspired by character development. With a handful of projects in the works, there is one character we might meet soon who also loves the game of golf.
"I have one in the works right now - I don't have a title for it - but it's about a young girl, Heather Kingston, who wants to play golf professionally," said Migliaccio. "The book starts out when she's 7. Right now, she's in middle school. I don't know how long I want it to continue, but it's definitely something that I really love and will continue to do throughout my golf career.
COUGHLIN'S SPONSOR STEPS IN TO CADDIE AT PINEHURST
Fifth-year pro, Lauren Coughlin (Charlottesville, Virginia), recently received sponsorship from No Laying Up, five golf "fanalysts" who host the sport's leading podcast and produce some of golf's most influential social media and digital content for rapidly growing and highly engaged fanbase.
"Beginning the year, they announced that they were going to be sponsoring five or six guys on the Korn Ferry Tour and Tron who is one of them, tweeted out that they were thinking about doing someone on the LPGA or Epson. So, my husband was like, hey, he should message them."
Not hearing back for months, Coughlin was surprised by a direct message from Todd "Tron Carter" Schuster. Later in the year, she met with Schuster and D.J. Piehowski, where they offered to sponsor her.
"I really enjoy hanging out with them. They just love golf. Being around them makes me like golf a lot more because, obviously, it can beat us down. When I hang out with them, they just exude good energy. It's contagious," said Coughlin "I've gotten to go on trips with them and I would never go to a golf trip, but I enjoy playing golf with them because of their energy and know how much they support the women's game."
Coughlin is currently No. 20 in the Volvik Race for the Card after claiming three top-10 finishes on the Epson Tour. Coming off last week, where she claimed her best finish on the LPGA Tour with a tie for 34th, Coughlin had a quick caddie switch in Pinehurst. Piehowski is stepping in to help her. From fan, to sponsor, to friends, the No Laying Up team has stepped up to help Coughlin this year.
"We did a little test run and he was actually really good. I think because he hits it almost the same as me. When we are talking about distances, he already knew exactly what club to pick," said Coughlin. "I'm looking forward to picking his brain about golf architecture and the little things like that. I don't really think about where to hit the ball in terms of like the architectural standpoint, so it will be cool to have that different perspective."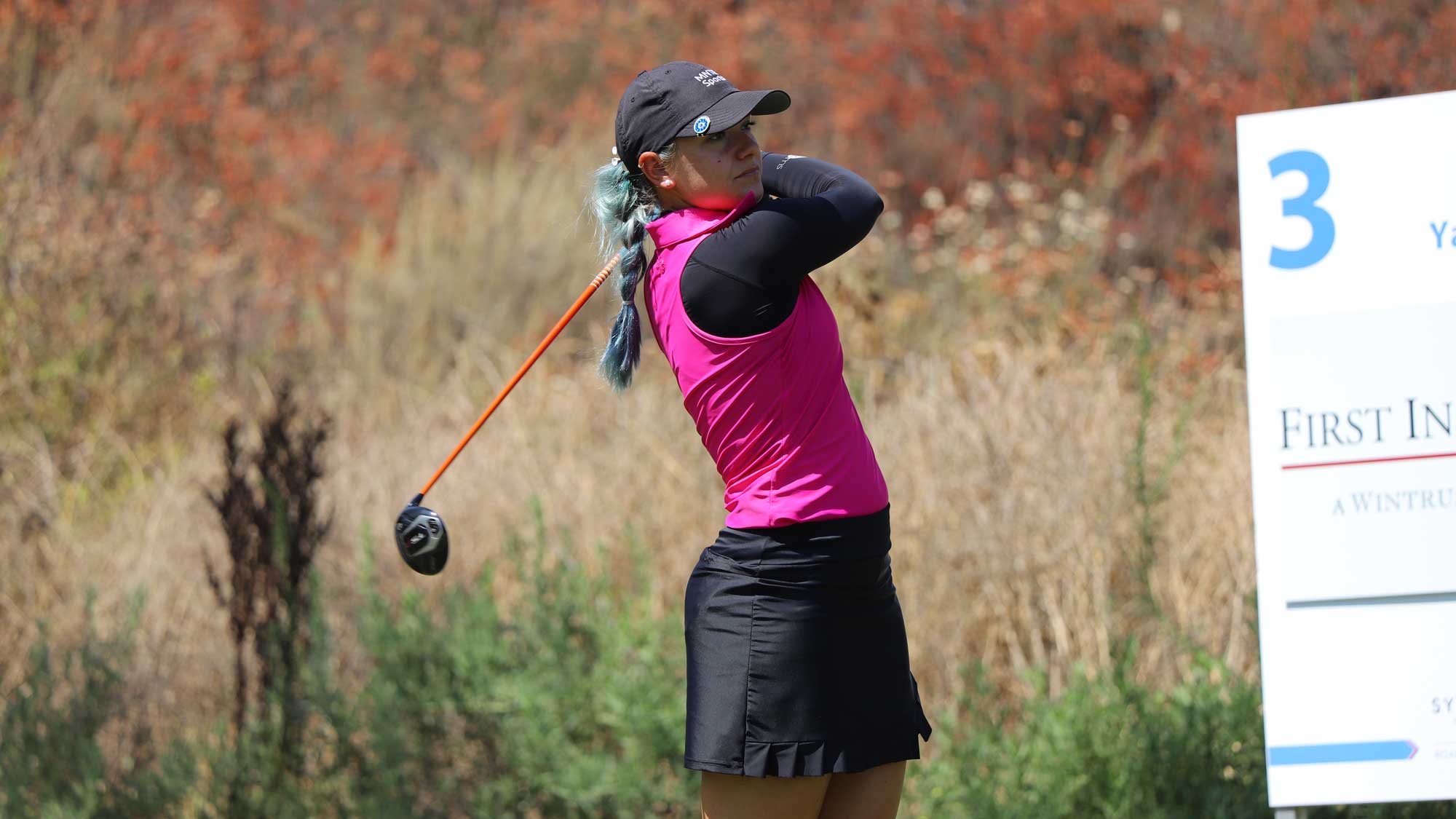 BELAC BACK TO COMPETE IN HER SECOND HOME
Duke University alumna, Ana Belac (Portoroz, Slovenia) calls North Carolina her second home. Before committing to the Blue Devils, Belac represented her native country at the 2014 Youth Olympic games, was a member of the 2019 Arnold Palmer Cup International team and claimed two wins at the Leone di San Marco.
"Coming from Europe you don't really know much about colleges and golf in the United States. But one of my teammates from national men's team went to Duke and graduated a couple years before I even got there," said Belac. "We just happened to talk, and he told me the coaches there are really good so you might want to check them out."
Belac was a two-time All-ACC selection her sophomore and junior year. In 2017, she earned co-medalist honors at the Landfall Tradition and again in 2019 at the East Lake Cup. Her time at Duke University helped her excel and earned her opportunities like competing in the inaugural August National Women's Amateur and now on the "Road to the LPGA."
"I think my biggest influence was my coach Dan Brooks. He's still my coach, not only making me a better player but a better person, teaching me like all sorts of stuff and giving me the confidence that I took into my professional career."
This year, Belac has not missed a cut in seven starts. Her best finish was a tie for fifth at the IOA Golf Classic presented by HomeValue.com, one of three top-10 finishes in her rookie season.