BENVENUTO DRIVES ON THROUGH INJURY TOWARD DREAM
Since early 2017, the "Road to the LPGA" has been a bumpy journey for Brittany Benvenuto (Langhorne, Pennsylvania) after a cervical MRI revealed a herniated disc for the University of Arizona alumna and forced her into a medical leave that season.
"I didn't swing a golf club from May of 2017 through October," said Benvenuto. "Then went to Q-School to better my LPGA Tour status even though I knew I could keep whatever I had, but I thought it would be easier than it was. Even getting your body used to walking 18 holes again, doing a workout, practicing for more than 30 minutes was difficult. Although I started swinging that fall, I don't think I was back into a groove until April or May the following spring."
That's the exact time Benvenuto made her first start of the 2018 Epson Tour campaign. She competed in 12 events, playing the weekend seven times with two top-10s and a season-best runner-up result at the fourth annual Murphy USA El Dorado Shootout.
With the injury seemingly under control, Benvenuto entered this year focused on regaining a full LPGA Tour card. The process was more than steady across her first 10 starts, making every cut through The Forsyth Classic presented by Decatur Park District. Then on the morning of the final round in Decatur, Ill. she suffered quite the scare.
"When I woke up and couldn't move my neck, a lot went through my head," said Benvenuto, who owns a season-best tied for second result at the Epson Classic. "It's tough because I've had this injury at bay for two years. Each week counts, so you can't take a month off and I don't want to take a medical again. Every morning I wake up and it's like taking a poll to see where my body is at. I'm like, 'How is everyone doing?' I also have certain corrective exercises to stay on top of it."

Depending on her tee time, that poll usually takes place three hours prior to stepping onto the course. As the 31-year-old prepares for The CDPHP Open and home stretch, the sports adage "one day at a time" couldn't be more true as she contemplates what the future holds.
"I know how I feel in the morning and really would love to be back on the LPGA Tour, but I don't know how much more time I'll give it out here," Benvenuto said. "I'm giving my all for these last eight weeks and then Q-School if I have to go. I want to be on the LPGA and an going to give 1000 percent until the finish line, but when the dust settles in November, I'll see how I feel both mentally and physically before making any decisions."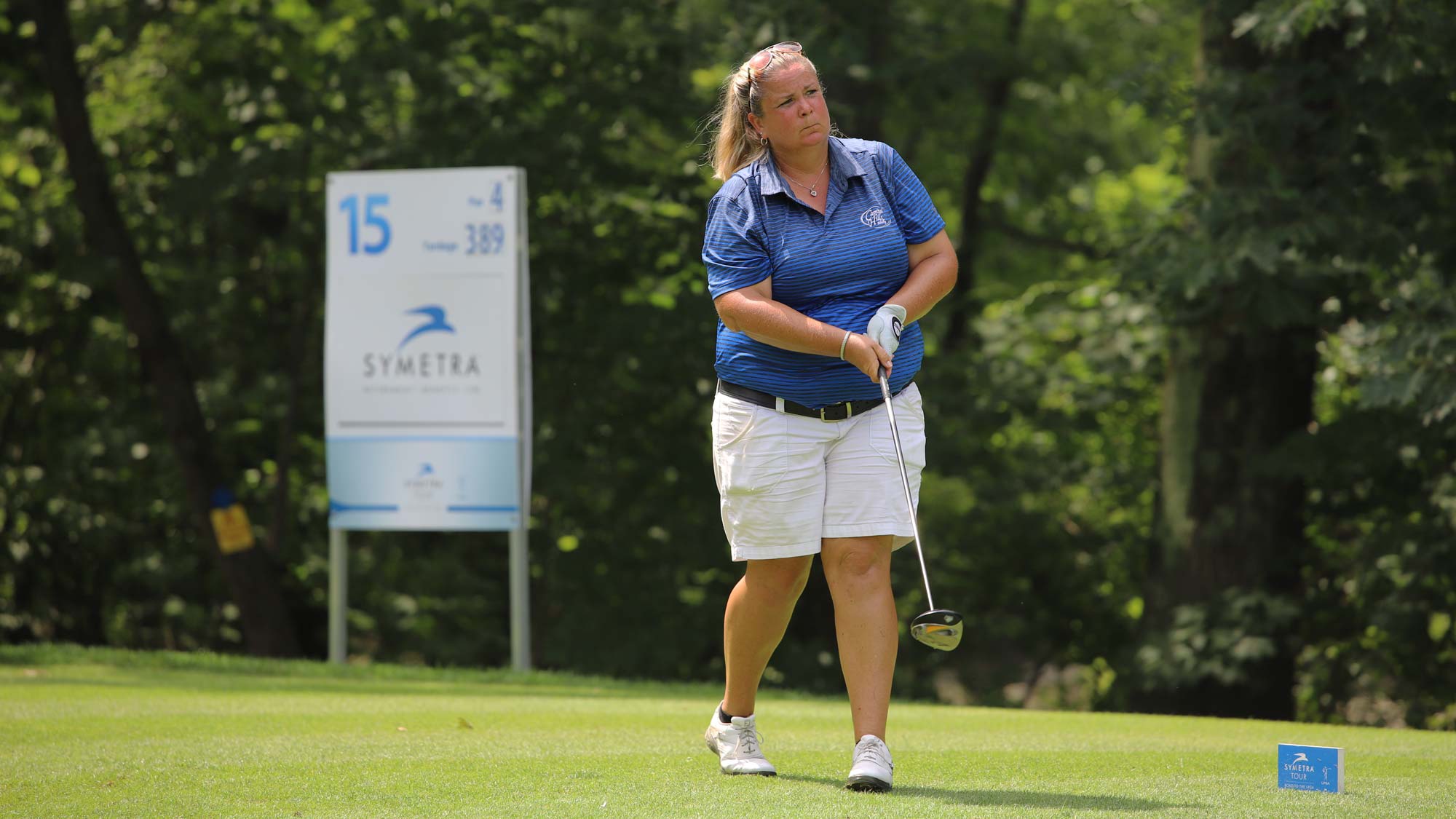 UALBANY HEAD COACH CASHMAN-MCSWEEN IN FIELD ONCE AGAIN
For a fifth consecutive year, Colleen Cashman-McSween (Albany, New York) is back competing in The CDPHP Open as a tournament sponsor exemption and each time, the University of Albany women's golf head coach further notices the impact of bringing the Epson Tour to the Capital Region community.
"This tournament has been going on for 35 years and now approaching 20 at Capital Hills Golf Course alone," said Cashman-McSween, who will begin her seventh season at the helm for the Great Danes this fall. "The community really gets behind the event and tournament director Jim Miller has done a great job keeping it going with a lot of work behind the scenes that people don't know about."
Furthermore, the 2019 edition of The CDPHP Open will be a bit more memorable for Cashman-McSween than any of the starts prior for one simple reason.
"My mom flew up from Florida and she hasn't watched me play since the 2006 U.S. Women's Open," Cashman-McSween said. "I come to this course all the time with my team or come here on my own to play and practice. Now to come and try to get in tournament mode, it's like flipping a switch for this one week. It's fun because it is different. To compete in the area and represent the school is really special."
MCCREERY TO PERFORM ON SATURDAY NIGHT AFTER SECOND ROUND
All eyes will be on Capital Hills Golf Course this week for The CDPHP Open, but also in anticipation of the concert on the course featuring country music star Scotty McCreery. The Season 10 winner of American Idol will perform on Saturday night once play in the second round concludes.

After the disappoint of last year's Chase Rice appearance being canceled because of weather, Epson Tour professional and country superfan Lori Beth Adams (Burlington, North Carolina) is extra excited to welcome a fellow Tar Heel State native to Albany. His debut studio album Clear as Day was released in October 2011 and eventually certified platinum in the United States.
"I'm pumped, especially since he's a North Carolina fella and won American Idol," said Adams. "He is friends with my cousin Dylan Harris and they visit fairly regularly, so we kind of know each other. Scotty went to North Carolina State with him and a bunch of guys I grew up playing golf against. Since he's a North Carolina boy it lessens the blow from missing Chase Rise last year, but he'll still be tough to beat."