Hopeless and defeated.
They're a couple words that could describe a round of golf, but more often they put into perspective what some may go through on a daily basis especially when tragedy hits. For Danielle Lemek (Doniphan, Nebraska), her family and their local community, the adjectives are a way of life at the present time.
Born in Virginia, Lemek's childhood was spent moving around the East Coast since her father Scott was in the United States Navy. Then in 2001, they planted their roots down in Nebraska and more specifically Amick Acres West. Surrounding the area of roughly 60 homes is a man-made, horseshoe-shaped sandpit Lake Karl, used by farmers for irrigation and in case of drought. Lately, however, it has been the cause for heartbreak.

"We've been getting a crazy amount of rain all year and five inches fell in two hours last week Thursday, then took on 12.5 inches through Sunday," said Lemek. "That is a lot of rain for anywhere. The lake filled up, started running into our house and then all previous rain kept rising from the ground. My mom [Lisa] and dad have five pumps running to maintain, but with all the forces it has not been enough to keep up with water coming up in the basement."
Adding to the situation is the fact that their home sits on Ogallala Aquifer, one of the largest aquifers in the world. And every time they get ahead, Mother Nature comes back with a vengeance as more rain hit the region on Monday night in the form of two inches. Any water at this point far exceeds all limits that property and sandbags can handle.

As she waded through their basement helping salvage both goods and memories, playing in the Sioux Falls GreatLIFE Challenge was far from the primary focus for Lemek. Emotional support and being there for family took the reins.
"Making the decision was really hard, but if I did stay there's not much we could do," Lemek said. "I just didn't want to leave them during this tragedy. My dad said I should go play and used the perspective of nobody got hurt, was mainly devastation. From the 'Drive On' perspective, I want to compete for all the people in my hometown. Swinging a club is easier than watching your home and valuables be destroyed. Golf has always been my outlet and if I wanted to escape from something, I went to the golf course. Life is a battle of triumphs and struggles, but right now it is trying to shine through a tough situation."
Through it all, several constants have allowed Lemek to "Drive On" toMinnehaha County especially her family and friends both on and off the golf course. This week, she'll havelifelong friend Sarah Pravecek on the bag. They grew up playing junior golf against one another and now Pravecek is an assistant golf professional at Wilderness Ridge in Lincoln. That comfort of a familiar face will be more than enough to help Lemek persevere 260 miles away at Willow Run Golf Course as her hometown works to recover.
"I don't think I would have played if I would have been here alone, just could not have done it mentally," said Lemek. "Golf has kept me on track to keep moving forward. I have such great support and so many friends from the Tour checked on us to make sure we were doing fine. I'll have enough good distractions and am determined to play well, push through and make the community proud. My other family on the road is also helping me get through the situation."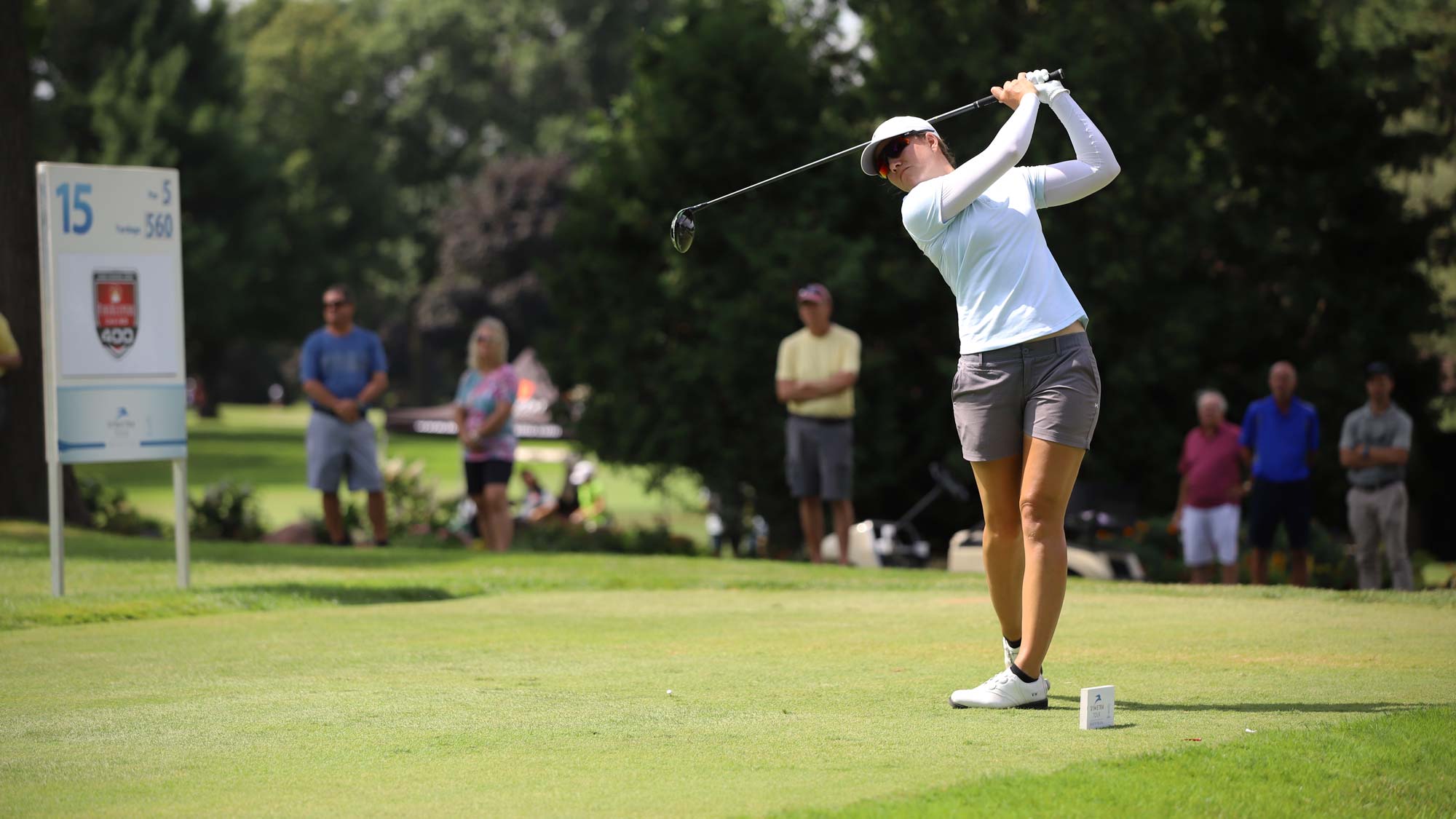 SOLHEIM CUP CONNECTIONS IN SIOUX FALLS
With the Solheim Cup rosters finalized earlier this week, excitement for the biennial golf tournament on the LPGA Tour is building with a rapid fervor. The event will be contested on the PGA Centenary Course at Gleneagles in Perthshire, Scotland from September 13-15.
Among the participants is the 2016 Sioux Falls GreatLIFE Challenge champion Nelly Korda (Bradenton, Florida) and 2017 winner Celine Boutier (Montrouge, France) who will tee it up for Team USA and Team Europe, respectively. Meanwhile, Vicky Hurst (Melbourne, Florida) is one of the individuals competing in the Mount Rushmore State starting tomorrow. She was a Team USA member at the 2011 Solheim Cup.
"It was definitely the most exciting week I've ever played as a professional," said Hurst, who ended with a 1-1 record at Killeen Castle in County Meath, Ireland. "The first tee excitement is really one-of-a-kind feeling and I had never experienced that from any other team event I played in. The majority of people were rooting for Europe, but plenty of Americans came out to support and it was cool to be there representing the U.S.A., just unbelievable. I can still remember what it felt like eight years later."
Furthermore, Madison Pressel (Boca Raton, Florida) witnessed her sister Morgan selected as a captain's pick for the 2019 Team USA. From seeing her sister's hard work pay off, to players that won here before and where they are now, as well as the purse increase in Sioux Falls, motivation surrounds Pressel as the "Road to the LPGA" heads down the final stretch.
"I'm so excited for her and she has worked so hard to make sure she wouldn't be left off the team again with lots of invaluable experience," said Pressel. "In an event like this on the Epson Tour with a bigger purse, there's a little more pressure. It makes sense that girls who play well here then go on to the LPGA Tour and play well. Now we have a couple in the Solheim Cup, so it shows those who perform under the pressure are able to handle that situation. With five more events, it is really crunch time to chase a card and we are lucky they increased the purse here."