WEBER PLAYING BEYOND HER YEARS
Even though a total of three groups did not finish the first round, Dewi Weber (Groningen, Netherlands) is the outright 18-hole leader at the fifth annual Murphy USA El Dorado Shootout after turning in a 5-under par 67 this afternoon.

"I saw this course and thought it was really for me, you have to be super accurate with all your shots and really have to think which is what I like," said Weber, who recorded six birdies and only one bogey. "I've never been satisfied with my game and have always been trying to improve. A round like this boosts my confidence, but even before coming here the drills I do and coaching I get, all of it helps being confident on the course."

A 2019 Epson Tour rookie, Weber has finished inside the top-15 at all four events this year with two top-10 results and a season-best tied for eighth performance in the IOA Championship.




CLANTON COMES OUT FIRING IN FIRST TOURNAMENT ROUND OF SEASON
For not having played a competitive round of tournament golf in 2019 until today, Cydney Clanton (Concord, North Carolina) showed zero signs of rust and even held the clubhouse lead with a 4-under par 68 when the morning wave concluded.

The Auburn University alumna did compete in Monday qualifier events on the LPGA Tour for the Bank of Hope Founders Cup and Kia Classic, but did not qualify for either event. Now making her first start on the Epson Tour since 2015, Clanton is only one shot off the lead heading into round two.

"I hit the ball extremely well today, had a lot of good looks," Clanton said. "Putter wasn't quite as hot as I would have liked, but can't complain. I worked a lot in the offseason on my golf swing, pretty much decided I wanted to get back to focusing on strengths. Really pleased with today especially on such a narrow golf course. This year I have to be patient and whenever my opportunity comes, going to have to grab it and take it as far as I can."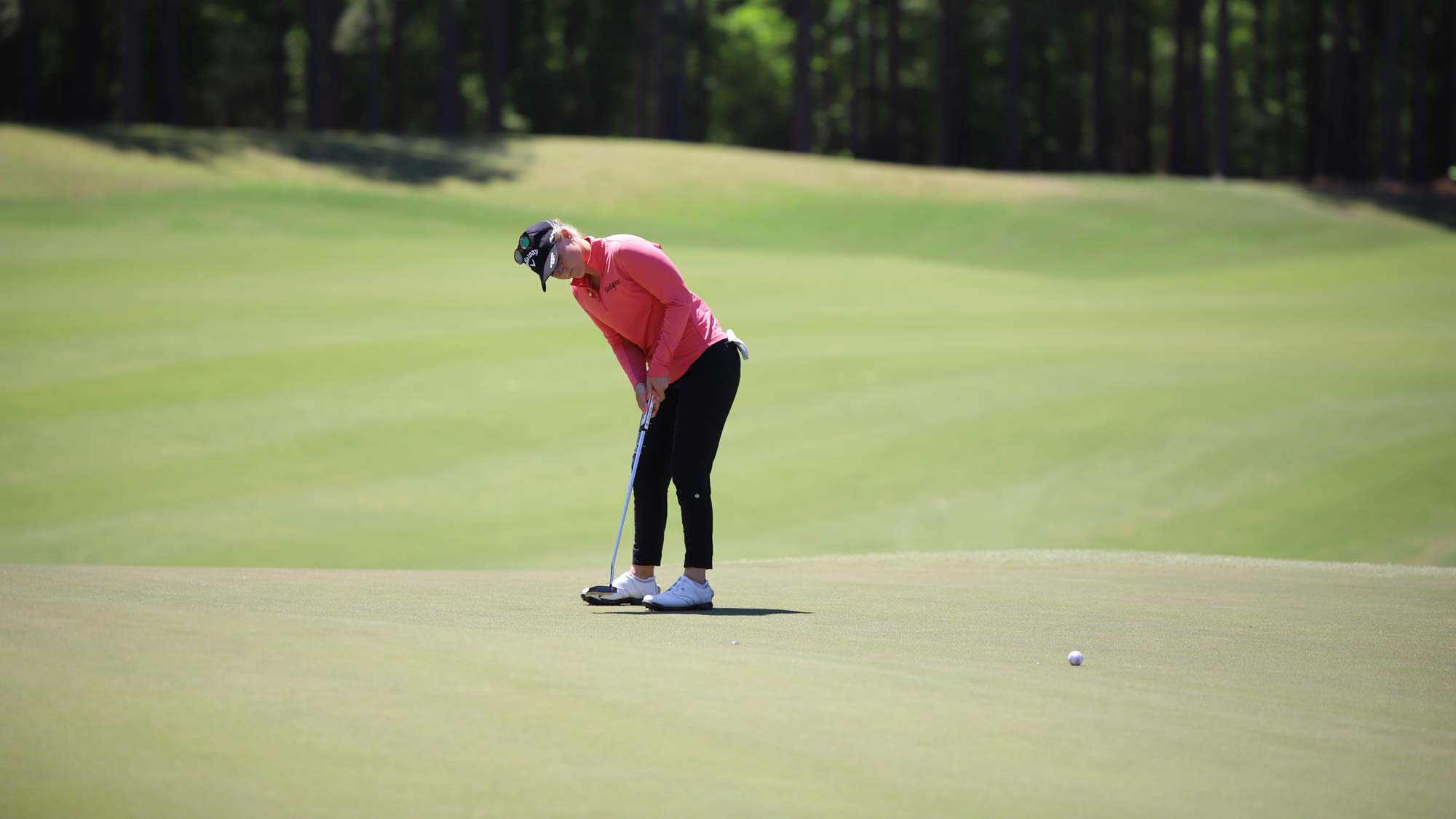 PRESSEL ADJUSTS APPROACH TO FIND SUCCESS AT MYSTIC CREEK GOLF CLUB
She'll be the first to tell you that her typical style of play on the golf course is aggressive, but this week is one where Madison Pressel (Boca Raton, Florida) adapts to the task at hand and today it paid off.

With four cuts made in four starts so far this year, Pressel continued her strong execution with a 2-under par in the first round in El Dorado, Ark. to hold down solo third position. She heads into the weekend trailing by three strokes as she pursues her second career Epson Tour win.

"Out here, even though you have a 9-iron you can't necessarily fire at the pin," said Pressel, who hit 13 fairways and 15 greens in regulation. "I think I did a good job of that today, knowing when I could be aggressive and when not to. Coming from a place like Windsor [Golf Club] where we could pretty much fire at every pin, it's a little bit different. You have to be way more patient out here, without a doubt. The course is also softer in the spring than it has been in the fall, which makes it slightly easier."

NOTABLE QUOTES
Cydney Clanton (-4, 2nd) on how to succeed at Mystic Creek Golf Club:
"It is such a good golf course, I like the challenge. You have to hit the shots and I like that. It's probably the best tournament for me to start on, keeps my mind clear and focused. You can't wander off, or this golf course will eat you alive. You have to stay focused."

Julieta Granada (-1, T4) on the setup and difficulty of Mystic Creek Golf Club:
"It's hard, some of the shots today were hard. You have to hit a good shot and there's no room for error. Some of the slopes are a bit extreme from my point of view, going into the water and stuff. It just penalizes you like one mental or swing mistake and you're looking at a double [bogey], easy. It is just hard, that's how I would describe it."

Perrine Delacour (E, T6) on carding a 3-over par 39 on the back nine in round one:
"I had a hard time judging the wind and getting close to the pin. Compared to the fact I only hit four fairways, it went pretty good. I had a really hard time with my driving today, so I need to fix it before tomorrow. The back nine you want to play safe and sometimes I made a couple mistakes. Since the beginning of the week I always thought the back nine was harder than the front because we had longer clubs to get into the green and inside of the big greens you have small greens."

PLAYER NOTES
Dewi Weber
Weber, 22, is a native of Groningen, Netherlands
Competed as member of the Dutch National Team since 2010
Three-time medalist for the University of Miami (FL) captured 17 top-10 finishes
Won 2016 Mary Fossum Invitational & Betsy Rawls Invitational, 2018 UCF Challenge
T2 as an individual at the 2016 NCAA Division I Women's Golf National Championship
Named a 2017 Women's Golf Coaches Association (WGCA) Second Team All-American as a sophomore and to the All-ACC team
2019 Epson Tour rookie after finishing 144 holes and T51 at inaugural LPGA Q-Series
Made her Epson Tour debut at the 2019 SKYiGOLF Championship with a result of T13
Four top-15 performances in first four starts of Epson Tour career including two top-10s