EL DORADO, Ark.— A total of 144 players will take on the challenge that Mystic Creek Golf Club presents starting Friday with the first round of the fifth annual Murphy USA El Dorado Shootout.
Three featured groups highlight the competition for the fifth event of the 2019 Epson Tour season.
Brittany Benvenuto, Hyemin Kim, Rachel Rohanna (No. 10 tee, 8:14 a.m.)
Last year's runner-up at the Murphy USA El Dorado Shootout, Brittany Benvenuto (Langhorne, Pennsylvania) leads the way for this trio. Her finish in the 2018 event is tied for a career-best result with the 2016 Garden City Charity Classic. The University of Arizona alumna has 12 top-10 performances since her rookie year in 2011 and is set to make her fourth start at Mystic Creek Golf Club this week.
The defending champion of the Murphy USA El Dorado Shootout, Hyemin Kim (Seoul, Republic of Korea) won her second career Epson Tour title by three strokes at 5-under par overall. Following the victory, Kim donated $5,000 of her $22,500 earnings to the LPGA-USGA Girls Golf program. Since her rookie year in 2012, the 31-year-old has made 124 career starts on the "Road to the LPGA" with nine top-10s.
Finally, the 2010 U.S. Women's Amateur Championship medalist Rachel Rohanna (Marianna, Pennsylvania) completes this group. A two-time Epson Tour champion in 72 career starts, Rohanna was a 2015 Epson Tour graduate to earn LPGA Tour membership for the 2016 season. Her last appearance in El Dorado came in 2017 when she shot 7-under par overall to finish tied for fifth.




Casey Danielson, Lindsey McCurdy, Lakareber Abe (No. 10 tee, 8:36 a.m.)
An alumna of Stanford University, Casey Danielson (Osceola, Wisconsin) helped the Cardinal win the 2015 NCAA Division I Women's Golf National Championship. In her second year on the Epson Tour, she is coming off a career-best result of solo third at the Windsor Golf Classic. Danielson captured one of five top-10s as a rookie in 2018 at the Murphy USA El Dorado Shootout, as she tied for sixth.


Meanwhile, Lindsey McCurdy (Liberty Hill, Texas) competed in 20 events with two top-10 performances last season as a rookie. The Lonestar State native was the starting guard on her varsity basketball team at Hays High School and earned 2013 All-Central Texas honors. An alumna of SMU, McCurdy registered the lowest all-time single-season scoring average in Mustangs history of 72.18 her senior year.
Rounding out the group is Lakareber Abe (The Woodlands, Texas). A two-time All-SEC Second Team selection for the University of Alabama, she is coming off a tied for 16th showing in the Windsor Golf Classic. Since her Epson Tour debut at the 2018 Four Winds Invitational, Abe has made the cut in 10 of 18 starts with a career-best tied for 11th performance in the 2018 Danielle Downey Credit Union Classic.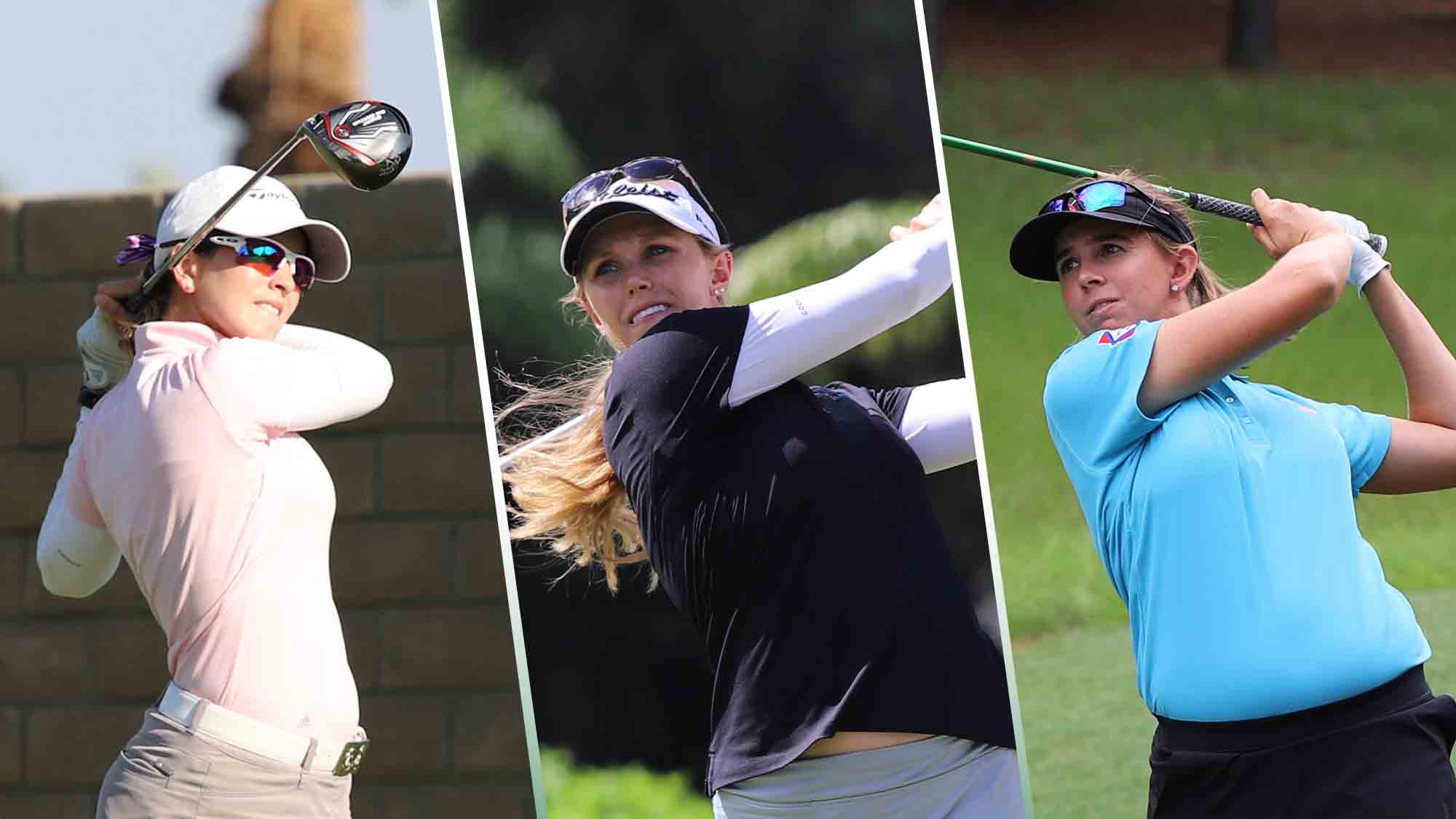 Brenda Gonzalez, Elise Bradley, Summar Roachell (No. 1 tee, 12:41 p.m.)
Last year, Brenda Gonzalez (Torreon, Mexico) competed in the Murphy USA El Dorado Shootout as a sponsor exemption and now returns as a full-time Epson Tour member. After spending her freshman campaign at the University of New Orleans, Gonzalez transferred to the University of Central Arkansas and was named to the 2017 All-Southland Conference First Team for the Sugar Bears.
Elise Bradley (Mandeville, Louisiana) made her Epson Tour debut at the 2017 Murphy USA El Dorado Shootout and entered the 2019 season with eight total starts on the "Road to the LPGA." A 2015 All-SEC Second Team member for LSU with one collegiate victory, Bradley was a two-time winner of the Louisiana Women's Amateur and three-time Louisiana Girls Junior Amateur champion.
The third piece to this featured group is Summar Roachell (Conway, Arkansas), the lone University of Arkansas graduate in the field. She was a four-time Class 7A State Champion at Conway High School and member of Team USA for the 2011 Junior Solheim Cup. Prior to 2019, Roachell made two starts on the Epson Tour as a sponsor exemption at the 2017 and 2018 Murphy USA El Dorado Shootout.