STAHLE CHARGES OUT FRONT WITH BIG SECOND ROUND
A big performance today from Louise Stahle (Lund, Sweden) of 7-under par 65 launched her into sole command of the lead at the ninth annual Island Resort Championship in Harris, Mich. with an overall score of 10-under par.

Even after recording eight birdies and just one bogey, she believes it will take a similar effort in the final round to ensure victory at Sweetgrass Golf Club.
"Need a good round tomorrow to win, hopefully the putter is still hot," said Stahle, who needed only 26 putts this afternoon. "I think like 5-under, there's so many good players and depends on conditions. I was really sharp with the game between great tee shots, irons were spot on and putting was really good. You have to see it is a new day and that means just trying to shoot the best I can."
Stahle will be joined by fellow Sweden native Linnea Johansson (Bastad, Sweden) in the final pairing for the final round tomorrow at 12:20 p.m. ET off No. 1 tee. The Oklahoma State University product had a monster moving day of her own, also recording eight birdies en route to a 6-under par 66 showing.
"It feels really great to play a solid round and it puts myself into position for tomorrow," said Johansson, who is 8-under par overall. "Try to do the same thing over—stay patient, get good numbers. It has been really windy, so have to be careful with where it is coming from. I did that really well today and will take it with me into the final day."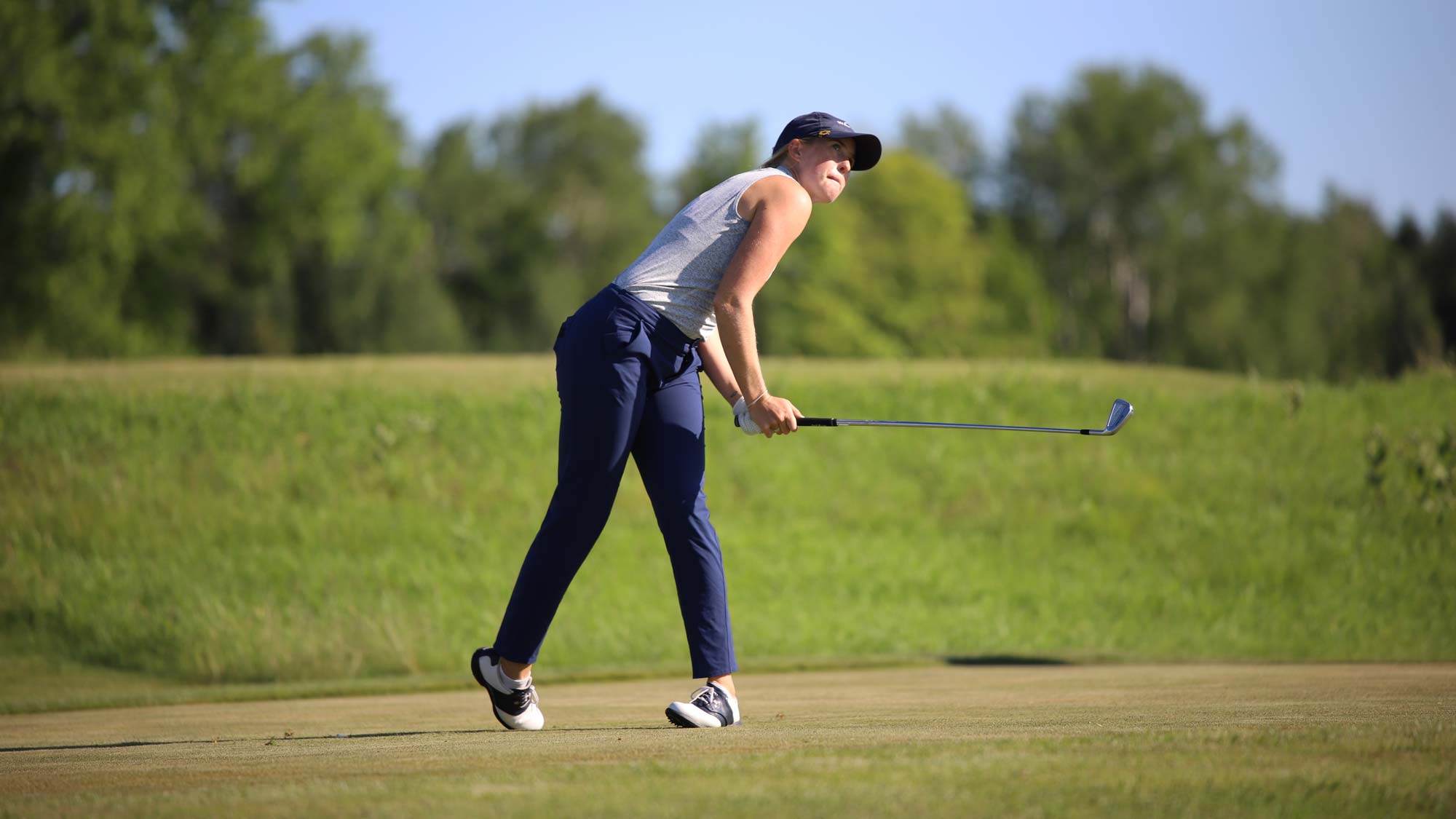 DANIELSON FEELING RIGHT AT HOME IN UPPER PENINSULA
Last year, Casey Danielson (Osceola, Wisconsin) made her 2018 season debut on the Epson Tour at the Island Resort Championship as a tournament sponsor exemption and finished a tied for fourth.
Back in the Upper Peninsula as a full-time member in 2019, the Stanford University alumna is only three shots off the lead with 18 holes to play. Danielson battled windy conditions to sign a 3-under par 69 scorecard today and get to 7-under overall.
"I really love the grass which might sound weird, but it feels like home," Danielson said. "It's a tough golf course. There is a lot of undulations in the greens and you have shorter irons in, so you can hit to the spots that you need to have a good putt at it. I think that's what I like, that it is challenging but can put yourself in position to make birdies."
Exactly 288 miles from where she grew up in northwest Wisconsin, it's very familiar territory for the current No. 22 in the Volvik Race for the Card. All that separates Osceola from Harris is a drive down Highway 8, but she can't even tell the difference between the two most of the time.

"This tournament means a lot to me and did a ton for my career last year," said Danielson. "They treat me so well here, like a local. I feel really comfortable and very supported. We had a big gallery following today, my parents are out here. This is one of my favorite stops on Tour for sure."



HOLLIS CHASING WIN NO. 3
Coming off her second win of the season at The Forsyth Classic presented by Decatur Park District, Jillian Hollis (Rocky River, Ohio) is within striking distance of a third title at 5-under par overall and just five shots back heading into Sunday at the Island Resort Championship.
"It would be sweet, just need my putts to go in the hole," Hollis said with a smile. "Could be awesome. I come out here every week and my goal is to win."
That lone objective has the University of Georgia alumna in prime position once again. She'll chase a third victory on the season starting at 11:30 a.m. ET tomorrow off No. 1 tee. Hollis pointed out that not much is different from when she found herself in the winner's circle to now.
"I'm hitting it great, have got everything up and down and only made one bogey over the last two days," said Hollis. "Everything feels really good and a northern course, so I know how to chip out of the rough. I understand the greens, but some of the holes were kind of cut weird today. They seemed to break a little different than I read. If I can dial that in tomorrow, then I can shoot really low because I went at a lot of pins and had some good birdie looks."

NOTABLE QUOTES
Alexandra Kaui (-7, T3) on being in this position for the first time in her professional career:
"I would say to keep the same process as today. I still have some meat on that bone. Just stay focused on hitting good shots. I was excited to see my name climb on the leaderboard and had some birdie action, which was cool. Pretty sure I also had some adrenaline on the final hole because there's no way I fly my wedge that far. I'm a little nervous, but I think it's good nervous."
Maddie Szeryk (-6, 6th) on Sweetgrass Golf Club and the confidence she is playing with right now:
"The rough is really similar and I'm used to that, fairly comfortable out of the rough. I think it's a pretty challenging course, you really have to plot your way around some holes. After the Auburn tournament, it showed me that I could compete out here. Getting more comfortable is huge. The first few events, I had no idea what to expect and was so nervous. As the year has gone on, just got more comfortable."
Julieta Granada (-5, T7) on what a good finish would mean for her in the Volvik Race for the Card hunt:
"I think where I am right now on the money list, any good finish helps out. Obviously, this is a big event as the Evian qualifier and just a few more things to play for. At the end of the day it's just golf, so we need to keep it mentally sharp and do what I have been. Any good finish helps at this point. From the first practice day, I thought this course was really good and didn't think it would go that low."