CHENG THE OUTRIGHT LEADER AFTER 36 HOLES
A strong bogey-free moving day performance from Ssu-Chia Cheng (Taipei, Chinese Taipei) of 5-under par 66 landed her atop the Donald Ross Classic leaderboard after 36 holes, as she holds the outright advantage by one stroke at 8-under par overall.
"Tomorrow, of course, is going to be exciting," said Cheng, who recorded five birdies on the Donald Ross Course at French Lick Resort this afternoon. "Scores are close, so everybody has a chance. Before the round today, just told myself to really focus on the process and not think about the result. I think that is the goal for tomorrow too. My process has to be good every single shot."
The last time Cheng competed in a Epson Tour final pairing was the 2018 Island Resort Championship. She also had the 36-hole lead, but a final round 2-over par left her tied for fourth when the dust settled. Taking what she learned then, Cheng hopes for a different result now in southern Indiana.
"When I played in that final pairing, I was quite excited and a little nervous," Cheng said. "Tomorrow is all mental and making sure the mindset is strong."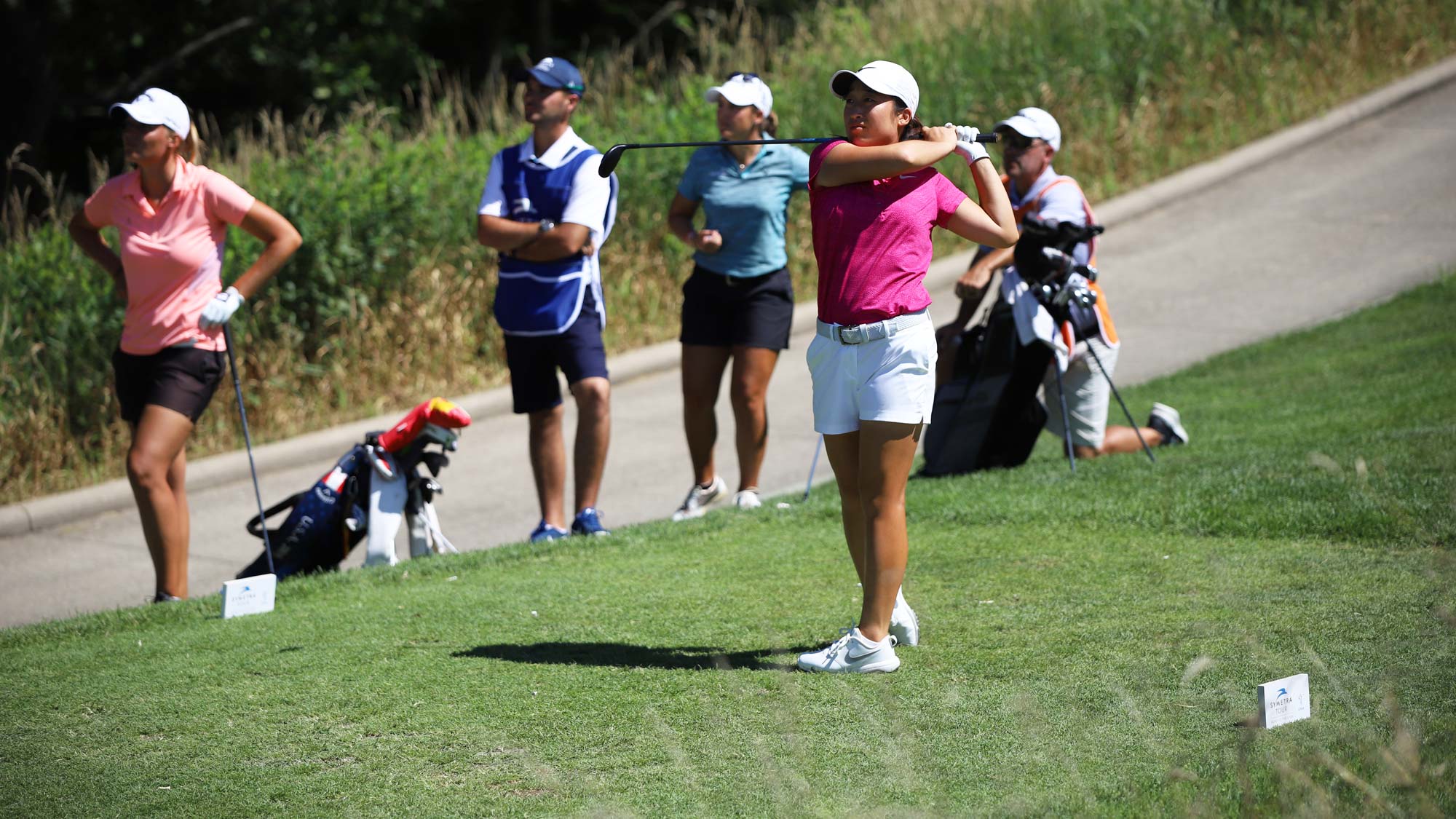 KIM GOES LOW ON MOVING DAY
So far at the third annual Donald Ross Classic, the lowest round belongs to Kyung Kim (Chandler, Arizona), who fired a bogey-free, 6-under par 65 on day two.
The University of Southern California graduate will join Cheng in the final pairing off No. 1 tee at 12:40 p.m. ET tomorrow. Kim has not missed a cut in 13 starts this year and captured six top-10s along the way.
"Starting to gain a little bit more confidence with my game," said Kim. "I try not to think about making the cut, just take it day by day. Today ended up being good, hopefully I can keep that momentum going. I've been putting pretty well and that has been the main key for me."



TALE OF TWO NINES FOR TAVATANAKIT
It was a tale of two nines in the second round for 18-hole leader Patty Tavatanakit (Bangkok, Thailand), as the UCLA alumna battled to a 1-under par 70 showing and will enter the final round just two shots back of the pace at 6-under overall.
Tavatanakit carded a 1-over par 36 going out, including a double bogey on the par-4 11th. However, she composed herself and went 2-under coming in. The charge was led by an eagle at the par-5 5th for the second straight day.
"I had a rough start, not a big mistake but a bad hole," said Tavatanakit. "I doubled my second hole with a four-putt, wrong side of the green and did not want to be there. It ended up not being good, but after I kept on playing. I really like the front nine so knew I could get it back. At the same time, going into each hole with a strategy, as well as the mentality of being calm and confident, really helped."

NOTABLE QUOTES
Kyung Kim (-7, T2) on playing in the final pairing:
"Definitely exciting to be in the final pairing for a big week. A lot can change in the Volvik Race for the Card with a good finish, but I'm just going to hit one shot at a time, play my own game and have fun out there. The rest will take care of itself."
Dewi Weber (-6, T4) on the pin positions and how she managed them:
"I struggled in the beginning a little bit, missed some fairways and the pin positions were easier to go at them from the fairway. They were tricky, but I got back at it and attacked them way more often. I had a lot more chances than yesterday, actually. Pin positions were just tough and I needed a perfect putt. The chances I created gives me confidence, so do that tomorrow and I'll have a good shot."
Liz Nagel (-5, 6th) on her history with the Donald Ross Course and passing of her grandmother:
"It feels good because lately, life has been really tough. Being able to golf, focus on it and forget about life has been nice. Seeing my name up there is good especially here and we won the [2012] Big Ten Championship on this course. My old coach texted me after losing my grandma, told her I'm going to French Lick and how I feel at home. There's enough good memories to feel happy and my grandma loved it here."

OF NOTE
The par-3 16th played at 104 yards today and surrendered a hole-in-one to three individuals: Nicole Autrique (Cuauhtemoc, Mexico), Marta Martin (Madrid, Spain) and Nuria Iturrioz (Mallorca, Spain). Last year, a Epson Tour record was set in the second round of the Donald Ross Classic when four players recorded an ace.