Turning pro is a life-changing decision, but luckily for Linnea Ström (Gothenburgh, Sweden), giving up her final year-and-a-half of eligibility at Arizona State University was made a little easier because of her outstanding support system.
In early December, she turned her attention to weighing the options after missing the cut at LPGA Qualifying School Stage III, going 5-over par to end in a tie for 72nd. Backed by her parents Jonny and Helena, brother Adam, coach Ola Lindgren, as well as Swedish National Team head coach Patrick Jonsson, Ström had plenty of guidance throughout the process.
"At the end, it was my decision to turn pro, but everybody gave me advice," said Ström, who will have full Epson Tour status in 2018. "It was a tough decision because I really enjoy college golf, especially my teammates and coaches, but I am ready to take the next step in my life."
On the journey to the final stage, Ström proved to herself she can compete at a high level, claiming medalist honors at Stage I in August with an overall score of 17-under par, six shots ahead of the rest of the field. Then at Stage II in October, Ström finished at 8-under par, tied for fifth with the likes of Anne Van Dam (Arnhem, Netherlands), No. 144 in the Rolex Women's World Golf Rankings.
"I am looking forward to improving as a player, but also learning everything that comes along with life as a professional," Ström said. "I see the Epson Tour as a great opportunity to learn and gain valuable experience."
Before officially turning pro via Instagram on December 13, Ström was No. 9 in the Women's World Amateur Golf Ranking.
"Linnea is very prepared to play the Epson Tour because she is a very consistent ball striker, and has tremendous poise and maturity on the golf course," said ASU head coach Missy-Farr Kaye, the reigning WGCA National Coach of the Year. "Linnea has great potential to be one of the best players to ever come out of Arizona State!"
Named a First-Team All-American by the Women's Golf Coaches Association (WGCA) her freshman and sophomore seasons, Ström also won the Pac-12 Individual Championship in her first year at ASU. That's just the start of what is an impressive collegiate resumé.
In her sophomore campaign, Ström led the Sun Devils to the program's eighth NCAA Division I National Championship, sealing victory in the semifinals against Stanford, as well as the title match versus Northwestern.
"My best memory from college is when we won nationals," said Ström. "I have never had as much fun together with the team as we had that week. I could not have asked for a better place to spend my two-and-a-half years in college."
All in all, Ström earned 20 top-10 finishes while at ASU, including four last fall.
Furthermore, the 21-year-old earned an exemption into the LPGA Tour's Marathon Classic presented by Owens Corning and O-I in July of 2017 where she finished as the low amateur at 1-under par overall, the most recent of her numerous amateur accomplishments.
"It is a lot of fun to see Linnea doing what she loves and follow her dreams," said Ström's mother, Helena. "She has had exceptional talent and passion for golf from the day she started at age 6. It has been amazing to be a part of her journey."
With the goal of capturing a LPGA Tour card for the 2019 season, Ström enters her first year as a professional eager to move up the ranks, and is actively pursuing sponsorships in both Sweden and the United States.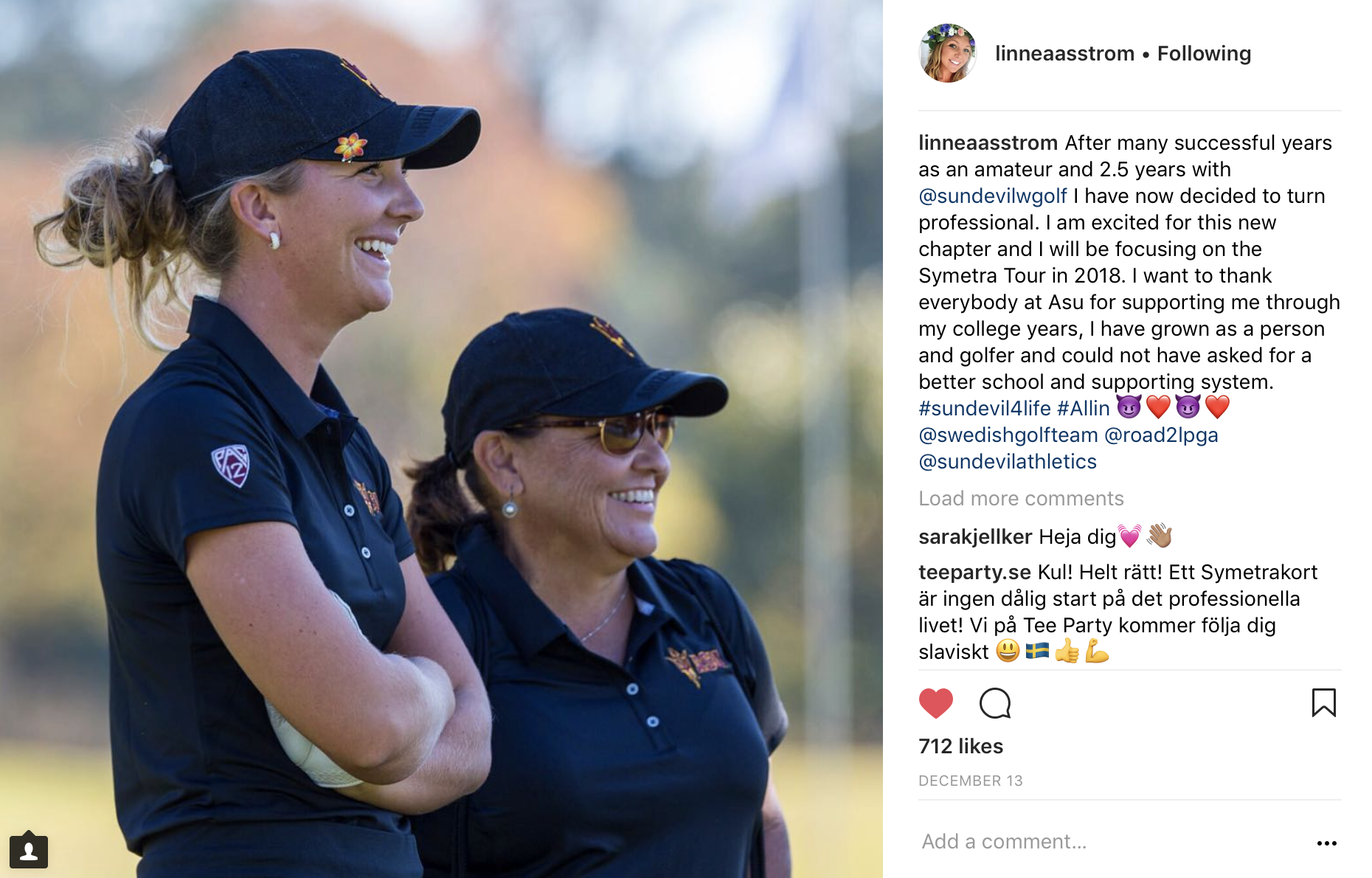 Meanwhile, plenty of familiar aspects will remain the same for Ström as she begins this new journey. She has called Lindgren her coach since she was 11 years old and will continue to do so. Her family will also alternate tournaments to caddy and Ström will still reside in Arizona.
"I am more excited than nervous," Ström said. "I must now take a more direct responsibility for my future."