PARADISE ISLAND, Bahamas — It's official: the second round of the Pure Silk-Bahamas LPGA Classic at the Ocean Club Golf Course has finally concluded.
Originally scheduled to resume at 7 a.m. EST on Saturday, high winds continued suspension until 11:15. From there, it was smooth sailing the rest of the day until darkness rolled in at 5:54 p.m., giving way to a 6:59 a.m. restart this morning. You get all that?
Furthermore, because of all the weather-related issues, the tournament has been reduced to 54 holes.
"It is a bit disappointing to have our tournament be delayed throughout the week and shortened. It kind of reminds me of the Epson Tour Championship last year," said Erynne Lee (Silverdale, Washington). "I am having a lot of fun and enjoying every moment of this opportunity as a LPGA rookie, however, especially at this great event."
Lee was one of four graduates from the 2017 Epson Tour class that wrapped up the second round this morning. She was even par through seven holes during Saturday's action. Today, Lee continued the steady play, finishing even for the round to remain even for the tournament.
"I've been doing a great job of staying patient and in the moment," Lee said. "It isn't easy having to wait through the delays to play the next round and then not getting to finish your round, only to get up and get going super early in the morning. But, it isn't the first rodeo for all of us."
The other three players to finish round two this morning began their second round on the back nine yesterday.
Before the horns sounded on Saturday, Nanna Koerstz Madsen (Copenhagen, Denmark) went 1-under par through seven holes and Emma Talley (Princeton, Kentucky) battled to 5-over par through eight. After a good night's sleep, Koerstz Madsen stayed the course and heads into the third round at 1-over par overall. Meanwhile, Talley eventually found herself at 8-over par, but used three birdies in her final six holes to get to 5-over par (4-over for the second round) and safely inside the 6-over par cut line.
Last but not least from the group, Hannah Green (Perth, Australia) was even through 11, but with a fresh start this morning, fired 3-under par over her final seven holes to get to 2-under overall.
"I would say it has been pretty even, both mentally with the delays and the tough playing conditions," said Green. "I have been pretty lucky to get on the better side of the draw, as far as delays, but today I had an early start so it will be a long day."
The remaining six graduates completed their second round on Saturday, but only two will play on Sunday afternoon. Yu Liu (Beijing, China) went 2-over par and Lindsey Weaver (Bellefontaine, Ohio) carded a 5-over par. Each enters the third round at 2-over par for the tournament.
On the other hand, Celine Boutier (Montrouge, France) fired 1-under par in round two and Benyapa Niphatsophon (Bangkok, Thailand) struggled to 5-over par, as both missed the cut at 8-over par. Also on the wrong side of the cut line only at 12-over par, Katelyn Dambaugh (North Charleston, S.C.), who shot 6-over for the second round, and Anne-Catherine Tanguay (Quebec, Canada), who went 7-over.
Finally, when we went to bed on Saturday, the top of the leaderboard looked like this: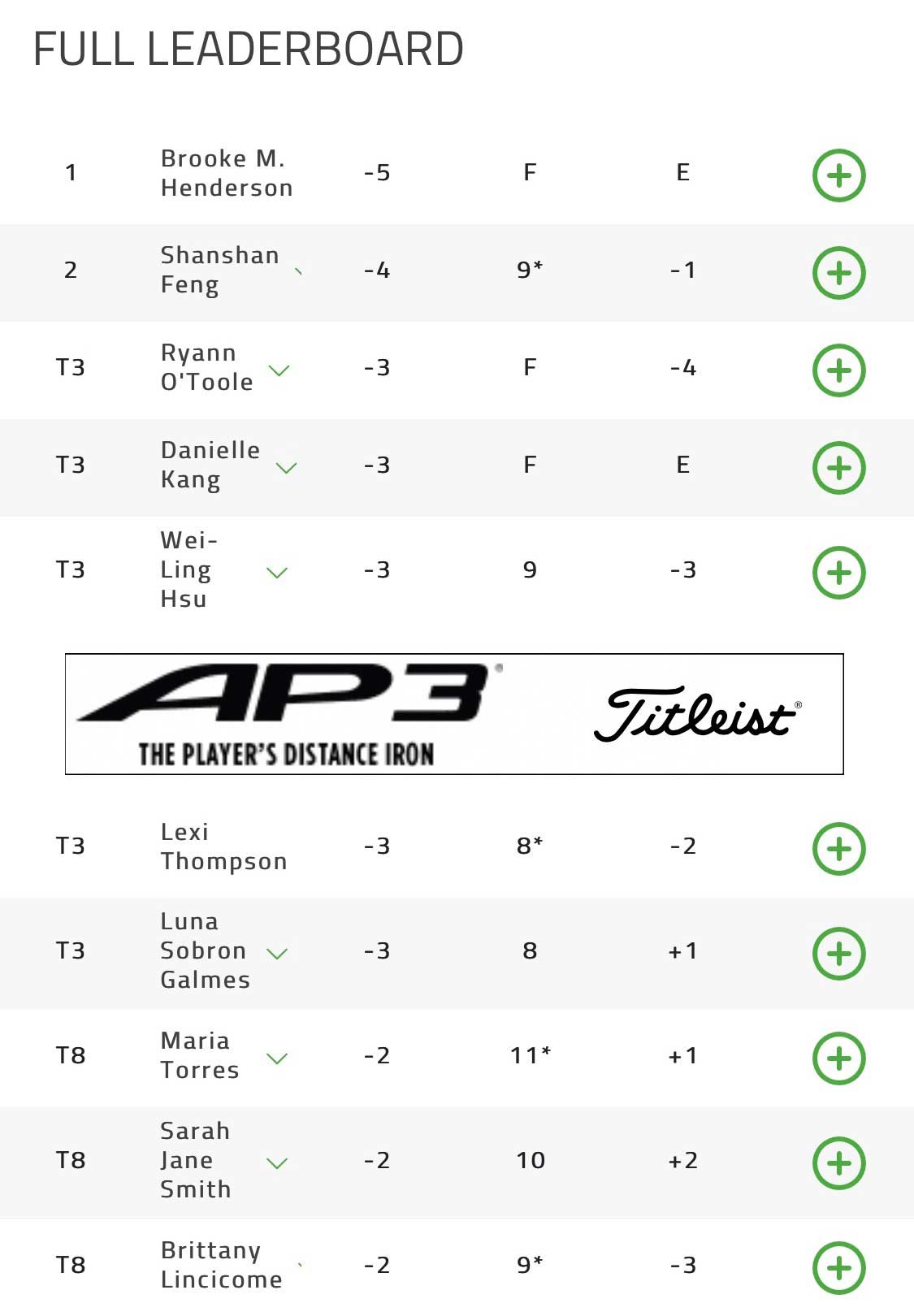 Heading into the third round, a strong group is in contention with 18 holes left to play: