POTTSTOWN, Pa. — She just finished her junior year at the University of Notre Dame and amateur Isabella DiLisio (Hatfield, Pennsylvania) is now getting ready to compete in the Valley Forge Invitational at Raven's Claw Golf Club from May 24-26, her first Epson Tour event.
"I've been looking forward to this ever since I got the invite, like six months ago or so," said DiLisio, who had a collegiate career-best finish of solo second come at the 2015 Chip-N-Club Invitational. "This is my first professional event. I think it's a great way to start off my maybe eventual professional career."
The business analytics major remembers the day she learned of her sponsor exemption for the Valley Forge Invitational quite vividly. Recounting the moments prior to checking her e-mail, then seeing the decision, brings back all the feelings.
"It's very emotional, I almost was brought to tears when I got the note," DiLisio said. "Especially since it's a golf course I've played and it's in the same county that I live in. I was just so excited and I've been looking forward to it everyday."
This summer will be the first summer that DiLisio has been home during her time at Notre Dame. Last year, she did a study abroad trip to Rome. However, she said it will be nice to simply practice.
"I haven't had much time to do that when I'm at school playing," said DiLisio, who has three career top-5 results for the Fighting Irish. "We're traveling all the time and it's hard to really work on my game. Planning on doing that this summer to get ready for the senior season."
Meanwhile, for her first competitive tournament in a professional setting, DiLisio is planning to see exactly where she is at and assess the possible next steps along her life journey.
"It's interesting talking to some of them, and I have a few friends who play the Epson Tour so I've been asking a lot of questions," DiLisio said. "I've been taking it all in, looking at what everyone is doing. It's cool seeing how they live and has been nice for me because it's helping me figure out if that's what I want to do after school."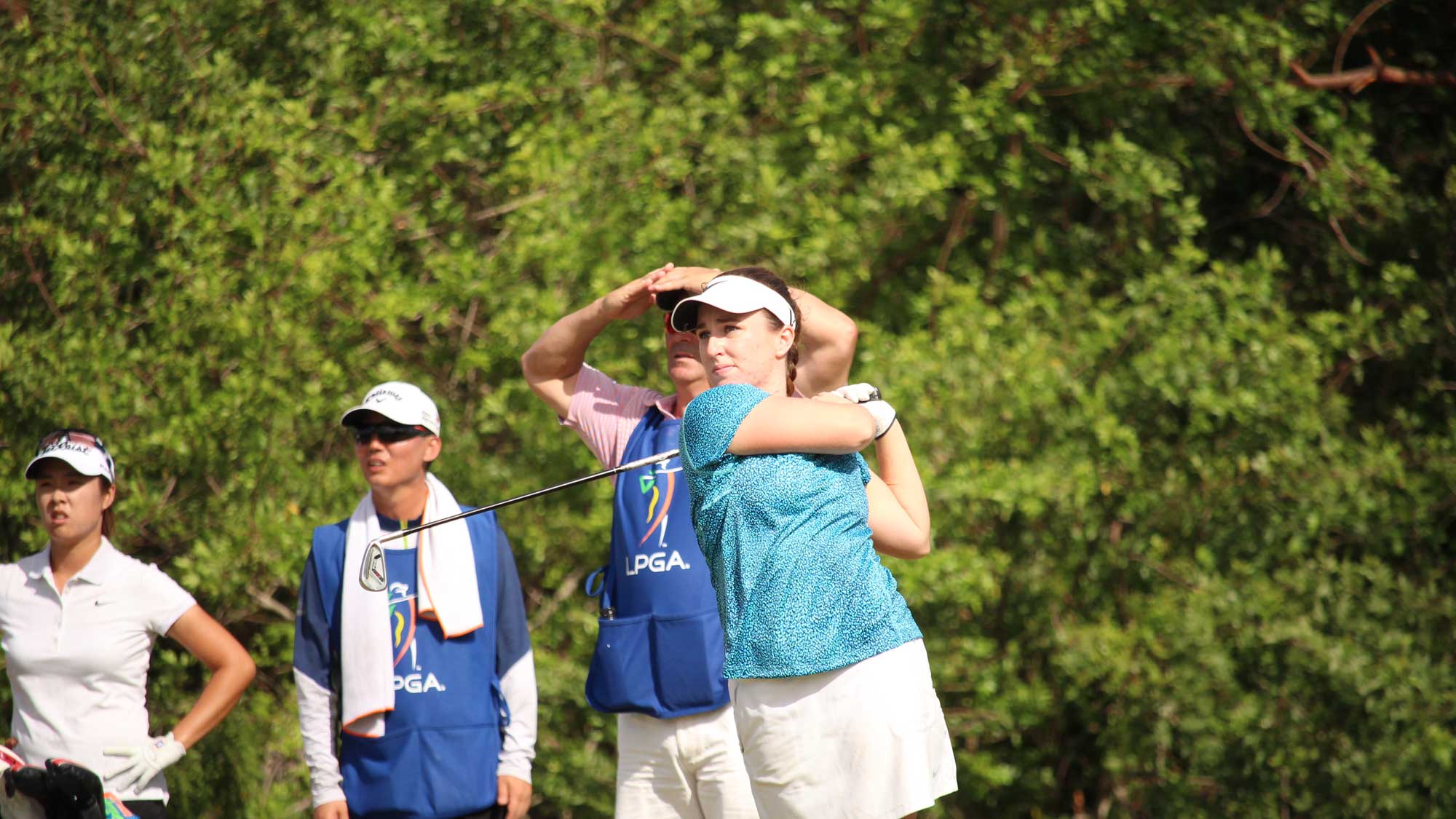 TOTLAND TURNING THE CORNER
The transition from college golf to professional has not been the easiest for Taylor Totland (Tinton Falls, N.J.), but the former three-time All-Southern Conference performer for Furman University received some good news this week.
On Tuesday, she received a sponsor exemption into the Shoprite LPGA Classic presented by Acer from June 8-10 in Galloway, N.J., at the Stockton Seaview Hotel and Golf Club Bay Course. There's also added excitement for Totland because the event is so close to home, approximately a 90-minute drive.
"There's a bunch of people that are going to come down to watch," said Totland. "I'm real excited to get the opportunity to play."
In addition, the news was very welcome following a brief overnight stay at Monmouth Medical in New Jersey on Monday for kidney stones.
"On the course I've been struggling, then I was feeling good, but Monday night happened," Totland said. "This exemption came at a really good time."
It was just the latest in a string of medical diagnoses dating back to last summer. In July of 2017, Totland started to feel ill, but tried to deal with her symptoms until she got to the point where they only got worse.
She would visit multiple doctors, but more questions than answers remained.
"It was a nightmare, they tested me for leukemia, just didn't know what was going on," said Totland, who was named the Southern Conference Player of the Year as a junior. "My parents had me come back, so it wasn't the best introduction to professional golf life."
After just six events in her rookie season, Totland stopped the travel and returned home. Eventually, she was diagnosed with PCOS and has curbed the symptoms with treatment.
Now in her first full season on the Epson Tour, and earning her first career start on the LPGA Tour, Totland is ready to leave the past where it belongs.
"I was getting pretty down about my game," Totland said. "An opportunity like this makes me real excited to get going and start back on track with good things happening again."
VOLVIK RACE FOR THE CARD BREAKDOWN
The latest Volvik Race for the Card top-10 features a new No. 1 and a new name entering tournament No. 6 on the road to the LPGA Tour in 2018.
With her win at the Epson Classic, Jenny Haglund (Karlstad, Sweden) earned $26,250 and jumped from No. 10 in the Volvik Race for the Card to the top spot. She is searching for a second consecutive win this week at the inaugural Valley Forge Invitational.
One of the secrets to her success has been her par-4 scoring average of 3.958, which leads the Epson Tour so far this season.
"I haven't put much thought to this stat, but I guess I've hit a lot of greens lately which has set me up for a lot of birdie opportunities," said Haglund. "It is always nice to take advantage of more than just the par-5s."
Meanwhile, the newcomer to the group is Linnea Ström (Hovas, Sweden). In five starts this year, the former two-time Women's Golf Coaches Association (WGCA) First-Team All-American performer for Arizona State University has three top-20 finishes, including one top-5.
She also leads the Epson Tour with 61 sub-par holes, including a Tour-best 60 birdies.
"My goal is to be in the top-10 at the end of the season and it feels great to be in it right now," Ström said. "I am just going to stay focused on every tournament and enjoy everything that comes with it. The rest will figure itself out."
Check out the complete Volvik Race for the Card top-10 below:
Haglund - $41,454
Dottie Ardina (Laguna, Philippines) - $36,269
Elizabeth Szokol (Winnetka, Illinois) - $34,319
Vicky Hurst (Melbourne, Florida) - $34,007
Pajaree Anannarukarn (Bangkok, Thailand) - $24,767
Stephanie Meadow (Jordanstown, Northern Ireland) - $24,292
Lauren Kim (Los Altos, California) - $23,003
Ström - $16,766
Charlotte Thomas (Guildford, England) - $16,686
Daniela Iacobelli (Melbourne, Florida) - $16,069