Yu Liu is happy to be home.
Her native China isn't a place she often gets to visit, much less compete. This week, the rookie is teeing it up on home soil for the first time in 11 months. Getting the chance to reconnect with friends and family motivated her throughout her first season on Tour. She finished inside the top 70 on the money list following the Evian Championship to earn one of the limited spots in the Tour's five-event swing through Asia, which includes this week's stop in Shanghai, a 12 hour drive south of her hometown of Beijing.
"It's very exciting for me to be competing in my home country," Liu said Tuesday. "At the start of the season playing in all the Asian swing tournaments was a goal of mine, and now that I have that completed, I'm just very happy be here."
Liu earned her way onto the LPGA Tour by way of the Epson Tour. In 2017, she won the Tullymore Classic to make history as just the third player from China to win on the developmental tour. Liu earned enough money to finish fifth on the Tour's money list, and with it, membership to the LPGA Tour.
After Liu earned her LPGA Tour card, she returned home to compete at the Blue Bay LPGA. That was last November. She was paired with major champions Brittany Lang and In-Kyung Kim. It was a wake up call for Liu. She opened with rounds of 75-77-75, but recovered with a final round, 67. It was a preview of what life would soon be like competing on the LPGA Tour.
"LPGA definitely plays different from the Epson Tour," Liu said last year. "The competition level is higher, and the difficulty of the course and the condition is a little different, too. Just trying to get used to playing with someone that you're so used to seeing on TV before."
Like many rookies, Liu's first year on Tour was full of highs and lows.
After missing the cut in three of her first five starts, Liu found her footing. In May, she hit her stride at the weather-shortened event in Texas where she finished third for her first top 10 on Tour.
"It was pretty magical," Liu said after the week. "I didn't expect to finish that high. I would be very happy with a little top 10, but never expected a third."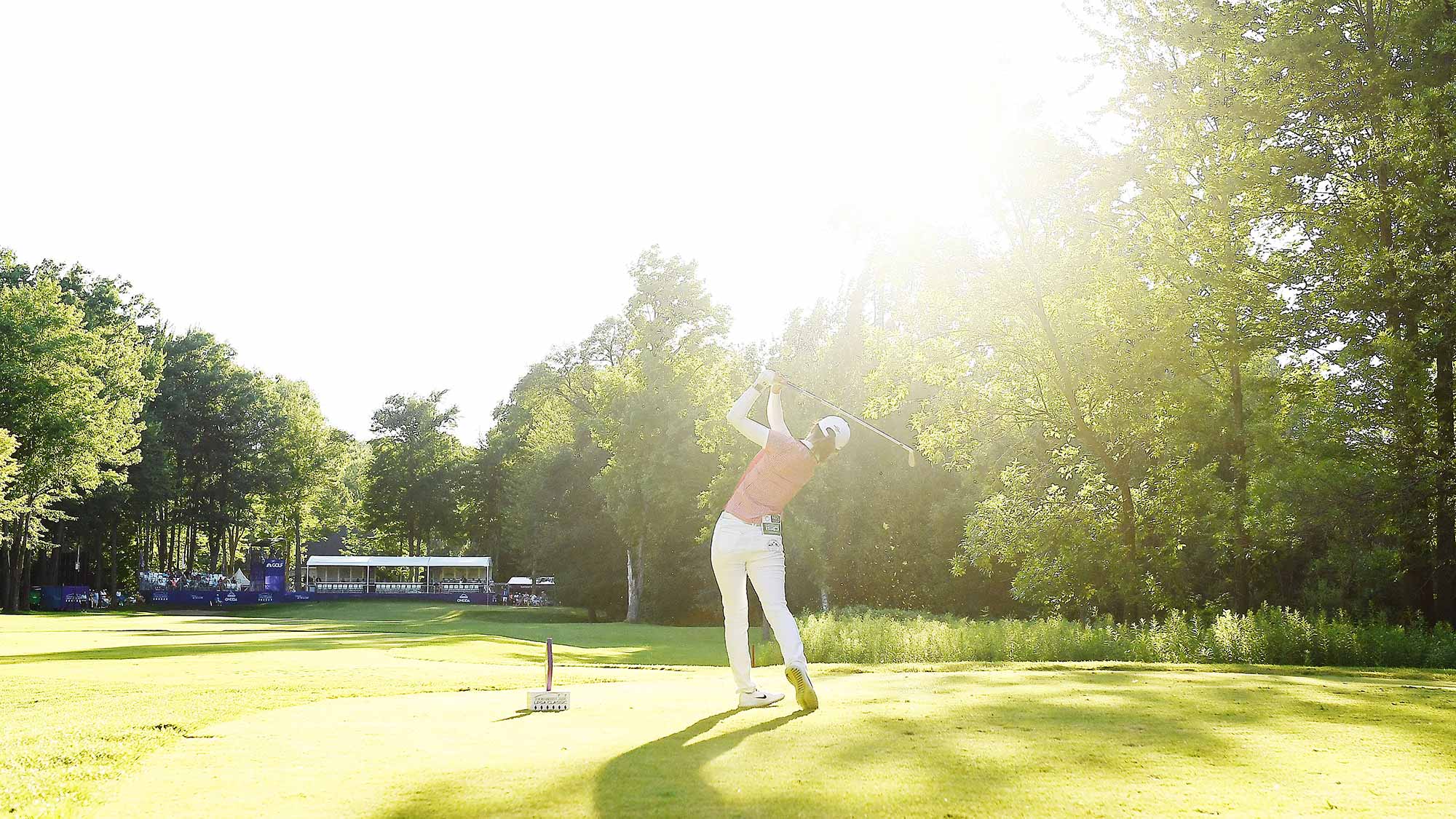 Her summer was unexpected, too.
In July, Liu recorded a career-best, 9-under par, 63 at the Thornberry Creek LPGA Classic, but settled for a T23 finish after a disappointing weekend of 70-72. The next month, her upswing continued at the Ricoh Women's British Open where she earned her second top 10 of the year. It was only her second appearance in a major championship.
"I'm just getting more and more comfortable out here," Liu said in England.
This week, the rookie will enjoy a whole new sense of comfort as she returns home. That experience nearly one year ago, of playing with two major champions in the spotlight of her home country, was just the beginning of what would become a yearlong learning experience for Liu. This weekend she'll have the opportunity with friends and family looking on, to show how much she has grown.
"It's pretty tough to be honest. There's some ups and downs," Liu said about her rookie year. "But overall, I'm happy to be where I am right now."
Thursday, Liu will play alongside major champion Brooke Henderson and four-time winner Minjee Lee. But all eyes will be on China's own. And she's happy to be home.