FORSYTH CLASSIC PRE-TOURNAMENT NEWS AND NOTES
FORSYTH, Ill. — On the eve of the 34th annual Forsyth Classic presented by the Decatur Park District, the 144-player field has just one more sleep until they begin the chase for a purse of $130,000 at Hickory Point Golf Course.
A total of 30 different countries are represented this week, as well as 19 states. In addition, five players that call Illinois home are competing, including Elizabeth Szokol (Winnetka, Illinois), Jaclyn Jansen(Effingham, Illinois), Stephanie Miller (Elgin, Illinois), Samantha Postillion (Burr Ridge, Illinois) and sponsor exemption Alexandra Harkins (Crystal Lake, Illinois).
"It's great, sleep in your own bed. You're on the road, but you're not," said Jansen, who attended St. Anthony High School in her hometown of Effingham, about 80 miles from the Forsyth Classic host venue. "I love the people here, the conditions of the courses. I'm used to them, grew up playing them. It's nice to have people that can come watch being relatively close."
The four-week stretch in the Midwest, especially the back-to-back weeks in northern Indiana and central Illinois, has also been convenient for Szokol, the current No. 2 in the Volvik Race for the Card.
"I was able to go home Sunday night after South Bend, hang out on Monday and just drive here Tuesday," Szokol said. "It was nice to go home, recharged the batteries a little bit. Familiar course here too, similar to what I grew up playing."
Szokol actually competed at Hickory Point Golf Course throughout her time at New Trier High School, as it welcomed the Illinois High School Association (IHSA) Girls Golf AA State Championship on several occasions.
"Length is different, but we were playing in October then, so weather was different, conditions," said Szokol, who led the Trevians to a state title in 2010. "I'm just a completely different player now than I was then too."
Being from the Land of Lincoln also has made Szokol into a sort of tour guide with many players stopping in Chicago on the way to Forsyth, and perhaps again when they head north for the Island Resort Championship.
"Everyone was asking me for my favorite deep dish pizza place in Chicago and just nice to tell people where to go, show people around and invite them to come hang out back home," Szokol said. "A few days with my family is really nice because I feel like I'm on the road all the time."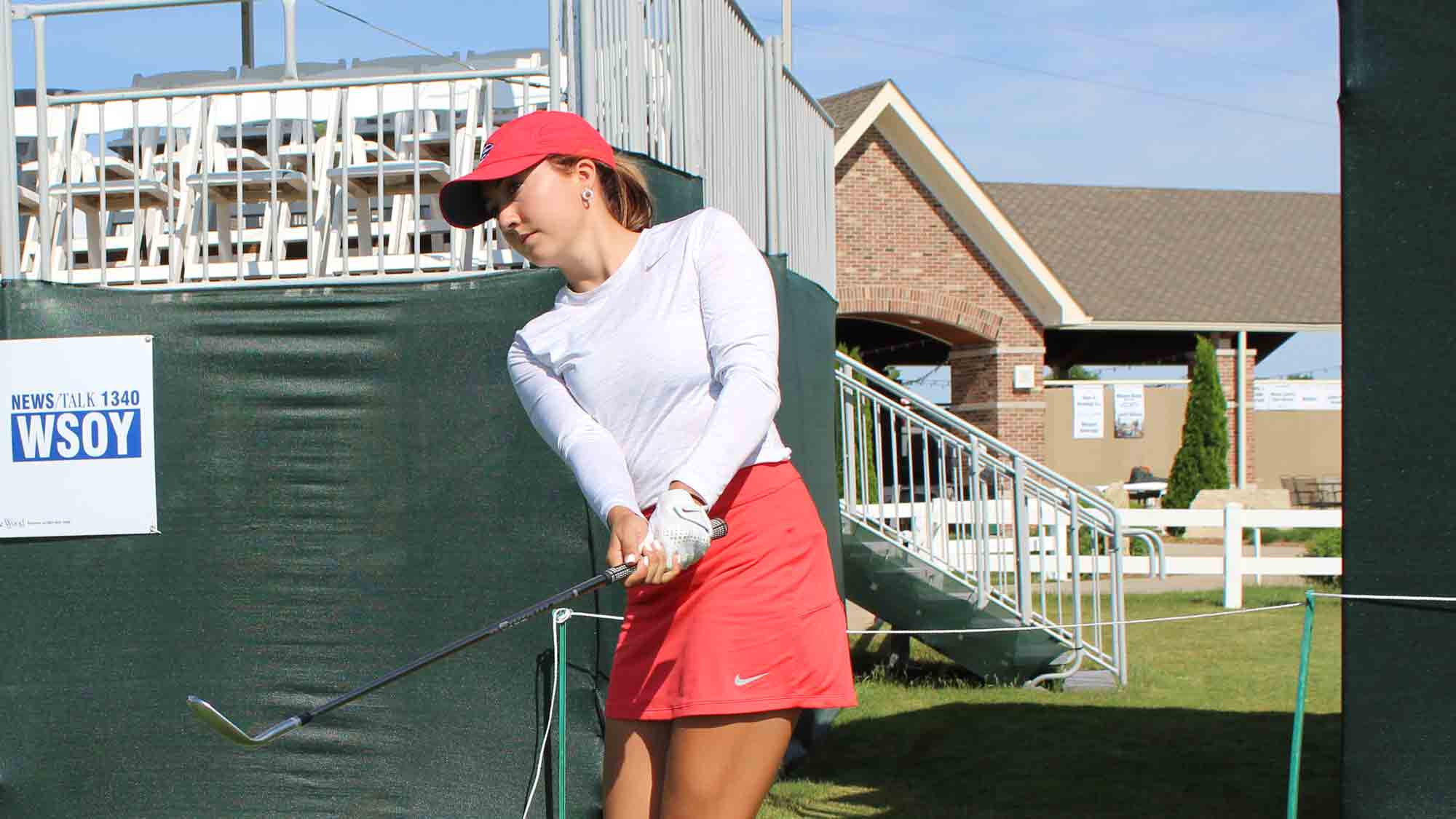 HOLLIS READY FOR EPSON TOUR DEBUT
She made her professional debut at the U.S. Women's Open from May 31-June 3 in Shoal Creek, Ala., but Jillian Hollis (Rocky River, Ohio) begins her Epson Tour career tomorrow at the Forsyth Classic.
For the former University of Georgia standout, entering the professional world by way of a major championship was an experience she will never forget.
"Definitely an unexpected, but cool place to start my pro career," said Hollis, who made the cut and finished solo 62nd. "I loved every minute of it and Shoal Creek was awesome, but I'm really excited to be out here."
A three-time All-American and three-time All-SEC performer for the Bulldogs, Hollis notched seven top-10 finishes in nine tournaments during the 2017-18 season. That includes victories at the 3M Augusta Invitational and the PING/ASU Invitational.
Even though her spectacular collegiate career is over, she will never forget how it shaped her.
"The whole atmosphere there, I did three years and it really didn't feel like that long because I just loved being there and all the friendships I made," Hollis said. "It feels like that's really my home, is Athens. I have so many connections and people there that I love, practicing and playing there. I'm going to miss it, but I'm ready to be doing what I'm doing."
Furthermore, Hollis also shattered the Georgia stroke average record and finished the season with a 71.08 mark. In 26 rounds, she posted 18 par-or-better tallies with eight scores in the 60s. Having such success brings a unique perspective on the game and how she can translate it to the professional ranks.
"Every round you could have the chance to shoot the course record," said Hollis. "You go out there with that mentality and you don't think too much about hopefully getting top-10 by the end of the year. You try to focus more on every tournament, every hole and every shot. I think that's where, if I get my mind in the right place and thinking that way, then I'll be really successful."
The credentials are there to prove Hollis belongs. She'll begin the Epson Tour portion of her journey tomorrow at Hickory Point Golf Course at 2:21 p.m. CT off No. 1 tee.
SEVERAL TOURNAMENTS SEE PURSE SIZE INCREASE
Entering week eight of the Epson Tour season, three tournaments have announced purse increases to raise the season money total to $3.15 million and set a Epson Tour record for tournament purse average at $150,000.
The Island Resort Championship at Sweetgrass Golf Club in Harris, Mich., from June 22-24 will jump from $150,000 to $175,000, while the Guardian Championship at Capitol Hill Golf Club in Prattville, Ala., from Sept. 21-23 was increased from $150,000 to $160,000.
"Another record year for the Epson Tour is upon us with the help of several key contributors," said Mike Nichols, the Chief Business Officer for the Epson Tour. "Providing the future stars of the LPGA Tour with these amazing contributions is not only helping them succeed, but giving future generations the hope of increased opportunities in the women's professional game."
In addition, the Donald Ross Classic at French Lick Resort in French Lick, Ind., from July 12-14 has expanded its purse from $200,000 to $225,000. The increase means the tournament will be designated as the "flagship" event on the Epson Tour schedule, where players can receive additional points toward the Rolex Women's World Golf Rankings.
As the "flagship" event, it will receive a minimum strength field of 50, the same mark awarded on the LPGA, LET, ALPG, KLPGA and JLPGA tours. The winner will receive 3.6 points with the top-40 finishers receiving points toward the rankings.
"Every tournament is important, every dollar counts. I'm so excited the sponsors were able to raise those purses," said Elizabeth Szokol. "It means so much to us, big finish can really propel us in the top-10 and help us secure our [LPGA Tour] card for next year. It's exciting that those sponsors are able to do that and help us pursue our dreams."
The top-10 players in the Volvik Race for the Card at the conclusion of the Epson Tour Championship receive full LPGA Tour membership for the 2019 season.
LEONA AND LISA MAGUIRE MAKE EPSON TOUR DEBUT
TRENDING ON SOCIAL - FORSYTH CLASSIC